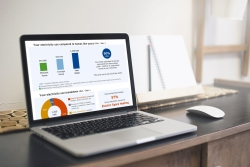 Vancouver, Canada, April 20, 2018 --(
PR.com
)-- Fast Company's award program "World Changing Ideas 2018" highlights innovations that have tremendous potential to make the world a better place. Ecotagious empowers energy customers to reduce household energy consumption by showing them personalized, relevant and timely insights about their energy usage.
Their SaaS-based solution
combines big data analytics and machine learning to help utility companies drive third-party verified energy savings and significantly enhance customer engagement. Ecotagious, who was also recognized this month by the Ready to Rocket program and BC Tech Summit, specializes in disaggregation analytics. This analytics turns smart meter data into an appliance-level breakdown of energy usage. This energy breakdown is then leveraged to generate unique, personalized insights and recommendations delivered to utility's customers using various channels including paper, email or fed directly into customer portals and mobile apps via API integrations.
"It's an absolute honour for Ecotagious to be recognized alongside innovative giants like Google and Microsoft," said Salim Popatia, Vice President at Ecotagious. "Our energy efficiency programs have been very successful in delivering utilities tremendous energy savings and customer engagement levels. We are thrilled to be launching exciting new solutions that combine our data driven insights with other technologies that will make achieving energy savings even easier for utility companies."