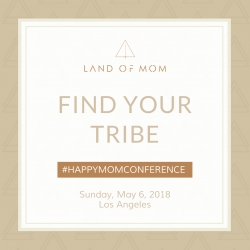 Los Angeles, CA, April 24, 2018 --(
PR.com
)-- Land of Mom is excited to announce the inaugural
Happy Mom Conference
to take place on Sunday, May 6th at the Skyline Loft, 224 E. 11th Street, in Los Angeles. This event is a place for all moms to get inspired, feel empowered, and connect with other moms who aspire to be more than just a mom. It's a day for new (and not-so-new) mothers to find connection, community and business know-how.
This daylong event features topics on women's health as well as entrepreneurship and career topics, including keynote speaker Lilit Caradanian, founder of Elcie Cosmetics and digital influencer with over 1 million Instagram followers, who will share her story on building a thriving business as a millennial mom. Hosts for the big event are comedic duo Haely White and Samantha Gutstadt, producers and stars of the #momlife comedy Sh*T No One Told You.
Other highlights of the event include a Health & Wellness panel discussion moderated by Jill Simonian, TV host and contributor for CBS Los Angeles News. Later in the afternoon will see a second panel discussion on Mompreneurship & Career Transitions with moderator Baily Hancock and panelists Lauren Gores Ireland (Summer Fridays) and Sarah Boyd (SIMPLY) among others.
Throughout the day, attendees will be invited to sample food, fashion, beauty in the Happy Mom Marketplace, with over 50 participating vendors and sponsors, including: The Giving Keys, Elcie Cosmetics, KIND, Penta Water, Suja Juice, Flybrow, Fridababy, Frances Austen, Wundabar, and more.
"I love meeting and talking with brand new moms, it takes me back to when my girls were small, and I was in the same emotional and exhausted place they were. Hearing the stories of women whose kids were a bit older, who had already carved their 'new, family-friendly careers' helped me find my own way, and I hope to pass along that favor now that I'm on the other side..." - Speaker Jill Simonian of TheFABMom.com // TV Personality & Author of the book for first-time pregnancy, The FAB Mom's Guide.
"What more important work is there than being a mom? We're so excited to help busy mamas feel pampered at the Happy Mom Conference. As a working mom myself, I am grateful for any self-care hacks I can use that give me more time and energy to be with my son. If we can give that gift to another mom, then we've accomplished our mission." - Suzie Moldavon, Founder of Flybrow
"We're so excited to have teamed up with the Land of Mom tribe to share Penta with new and expecting moms at the Happy Mom conference this May. We believe a happy mom is a hydrated mom and we know choosing what to hydrate with during pregnancy can be difficult. At Penta, we take the guesswork out of your decision by providing an ultra-pure product, free of any harmful additives or impurities. Purity is essential during pregnancy and in the first few years of our lives. We hope that more mom's will come to know and feel the difference of our ultra-pure water and live a pure lifestyle for her and her baby." - Penta Water
"As a mom (and step-mom) of 3 and business owner, I know the true meaning of juggle. I jump at any chance I can share my learnings and experience with other mamas, because I've been there and know how hard it is. That's why when the Happy Mom Conference approached me to speak, I couldn't wait to join. Plus I love to meet like-minded women for a day of inspiration and empowerment!" -Speaker Sarah Boyd, Founder of SIMPLY