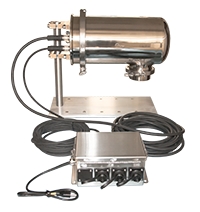 Oxnard, CA, April 24, 2018 --(
PR.com
)-- Sensortech Systems, a California-based industrial technology firm specializing in moisture measurement and control, is pleased to announce the availability of the
NIR-6300 Harsh-Environment Moisture Analyzer
. The fortified analyzer allows real-time, non-invasive moisture measurement in manufacturing environments with extreme temperatures, excessive dust and debris, corrosive materials, or require severe wash-downs.
"From our vast engineering experience and customer feedback, we understood the need for a rugged moisture gauge that supports industries where measurement and process control are required but environments are too extreme for standard tools to function accurately," says Colin Hanson, Sensortech Systems' founder and president.
The NIR-6300 incorporates improved features; including a cylindrical design, hygienic #316 stainless-steel enclosure, and IP67 and NEMA 4X ratings. The analyzer utilizes the foundational near infrared reflectance (NIR) moisture measurement technology from the stalwart NIR-6000 Industrial-Grade Analyzer. The Harsh-Environment Moisture Analyzer has added premium features including a built-in cooling system, high efficiency optics, replaceable desiccator and a remote I/O junction box. In addition to moisture levels, the analyzer can also measure other constituents like protein, fats or oil, and coating weight or thickness.
"Industrial processing environments hostile to precision instruments benefit from robust devices. The NIR-6300 is the answer for plants requiring online, real-time, non-contact moisture measurement and process control to meet the outcome qualify for finished goods," Hanson continues.
The NIR-6300 provides a wide range of standard communication protocols supported by a PC-based proprietary software package. Plant operators or quality assurance managers can adjust their production processes in real-time: optimizing energy, reducing waste, and assuring consistent quality.
Sensortech Systems, Inc., established in 1983, has innovated measurement and control instruments for more than 30 years and is the global leader in applied moisture measurement technologies. Headquartered in Oxnard, California, Sensortech has an international presence with offices in Europe and Asia.