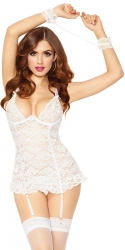 Los Angeles, CA, April 28, 2018 --(
PR.com
)-- Musotica have just launched their bridal lingerie collection in time for the
2018 wedding season.
Musotica have just launched their bridal lingerie collection in time for the 2018 wedding season and in the run up to the UK Royal Wedding.
Their latest collection is inspired by style, shape and size, allowing prospective brides-to-be a wholly personal experience when choosing lingerie for their big day.
The online lingerie and fashion website presents traditional white and ivory pieces, as well as a selection of vibrant colored items.
This evolved bridal collection includes a selection of high necklines, cap sleeves, monowire pieces, tie details and high waist styles.
These new designs are dubbed unique in the world of bridal lingerie, finished with embellishments that include guipure, glisenette, eyelash lace, scalloped trims and folded satin detail.
When asked about the inspiration behind the
bridal lingerie
items on offer, Musotica's founder and celebrity stylist, Sarah Wallner said, "This collection is inspired by the complaints of brides. Quite often women will come to me frustrated that their lingerie simply doesn't fit as they would like it to under their dress.
"With all the new styles on offer, we can ensure that the bride-to-be in question feels flawless and is ultimately very comfortable and supported. Lingerie is the foundation of the bridal look," Sarah added.
Sarah says that the lingerie beneath the wedding dress must be ordered to suit, otherwise bad support or lining can simply ruin the big day.
Musotica are delighted to offer such a wide variety of bridal styles, with an emphasis on ensuring that women feel stylish, comfortable and confident on their wedding day with their latest offering.
Get inspired further with their latest bridal collection and blog post: How to wear stylish bridal lingerie for your shape and size.