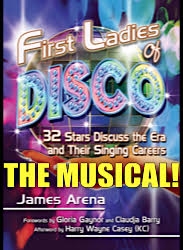 New York, NY, May 01, 2018 --(
PR.com
)-- DO-KWA Productions, the entertainment company overseen by pop, R&B and dance music icon Martha Wash, has announced that negotiations have begun for the production of a new stage musical focused on the lives of women who pioneered the chart-topping music of the disco era. The production will be based on the internationally popular book First Ladies of Disco, the first of a published six-volume series by New York-based author James Arena, which initially chronicled the lives of 32 dance music stars. Like the book, the musical will weave together the dramatic stories of women whose powerful voices helped make disco a worldwide phenomenon. Discussions among the parties involved are exploring locations, including New York City, the possibility of bringing in the actual singers to play primary roles, and the fusing of original and classic songs into the storylines.
Ms. Wash is herself an innovator of disco, having amassed a series of major hits as a back-up singer for the legendary Sylvester (under the moniker Two Tons O' Fun, with Izora Armstead) such as "You Make Me Feel (Mighty Real)" and the ladies' '80s incarnation, The Weather Girls ("It's Raining Men"). As a solo artist, Martha has enjoyed a long series of #1 dance hits that have extended her reign as Clubland's queen right through the present day. She was also responsible for a landmark legal case involving the proper crediting of vocalists on recordings and videos in the early '90s.
The stage project began to take shape after the initial success of the book (published in mid-2013) and the introduction of a musical ensemble and national cabaret-style touring show called First Ladies of Disco, which featured Martha, Linda Clifford and a rotating line-up of veteran disco performers. This rousing show has been featured throughout the U.S., and has been publicized on various television, radio and satellite programs. The group known as First Ladies of Disco, produced by Ms. Wash and James Washington, enjoyed a Top 10 Billboard dance hit in 2015 with the single "Show Some Love." The stage production currently in negotiations will take the concept to the next level, providing intimate dramatic portraits of the lives and careers of the singers profiled.
Says Ms. Wash, "The book First Ladies of Disco was important because it was the first to look at not only the music, but the human side of the talented women who forged this genre and helped make it so popular. We've been taking the concept a little further each year since, and we're excited about the possibility of it now taking shape as a major stage production. It just feels like the time is right for this exciting, dramatic material to be in the spotlight that a full-on stage production can provide."