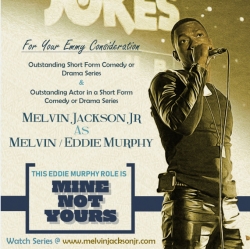 Hollywood, CA, May 01, 2018 --(
PR.com
)-- Actor/Producer/Writer Melvin Jackson Jr. is being considered for two Emmys for his six episode series titled, "This Eddie Murphy Role is Mine, Not Yours." A short film in which he pays homage to legendary comedian Eddie Murphy. The series is written by Melvin Jackson Jr & his wife actress Kelly Jenrette and directed by Julio Montalvo. As well as produced by Melvin Jackson Jr.
The categories in which Jackson are being considered for are outstanding short form comedy or drama series and outstanding actor in a short form comedy or drama series.
Melvin is best known for his portrayal of renowned rapper Kurtis Blow in the BET network NAACP award winning mini-series "The New Edition Story" as well as his roles on HBO's "The Wire" and CW's "Everybody Hates Chris." Jackson decided to create this series because for many years people have been comparing him to Eddie Murphy because of their remarkable similarities in appearance, mannerism, smile, and ability to captivate a crowd with charm.
In addition to the strong likeness, actor/comedian Eddie Murphy is the reason Jackson also became a comedian and an actor. He looks up to Eddie Murphy and admires the work he has done.
This series is about Melvin getting a call from his agent for an audition for the role of Eddie Murphy for his biopic. He is excited about the audition, but knows how it is in Hollywood and thinks they will probably just cast a star name for the role. His friend Brandon comes up with a way to make sure he gets the role, by having him take out his competition. Melvin believes this role is his and only his. Audiences are roaring with laughter as they watch how far he goes to get the role he feels like he was born to play.
Jackson feels there is a lane with his name on it and feels like now is the time to capitalize off it. Please support him and his series and help him get nominated and help him win.