Football Quarterback Recognized for Her Courage; Diversity Non-Profit Rewards Those Who Follow Their Passion
Bailey McQuarrie, a 15 year old sophomore at Seabreeze High School in Daytona Beach, FL has received the BE Courageous award from Beyond Equality, Inc., a diversity non-profit.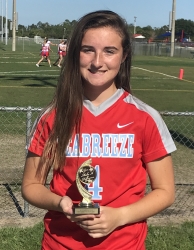 Philadelphia, PA, May 01, 2018 --(
PR.com
)-- Bailey McQuarrie, a 15 year old sophomore at Seabreeze High School in Daytona Beach, FL has received the BE Courageous award from Beyond Equality, Inc., a diversity non-profit.
Bailey is a cheerleader and honor student, but also her flag football team quarterback and marksman with a rifle. She received the award and $100 scholarship for her courage in following her passion, even though they don't follow traditional gender norms. "It hasn't always been easy," says McQuarrie, "but I've always loved football and wanted to play. I can throw, map strategy and call plays and I love every minute of it. I don't think it's a boys game, I think it's really fun." McQuarrie also is a sharp shooter and while she enjoys all types of sports, those that don't follow traditional gender norms haven't always been easy. "I believe it has taken courage to take on the sports I'm most passionate about. I think that will prepare me well for life in understanding that being persistent, passionate and willing to be disruptive builds strength, smarts, and changes the path for the future of all children – male and female alike."
"Do what you love, no matter what anyone says and don't be afraid to disrupt typical gender norms, that's how we believe we move beyond traditional thinking and pioneer a future that embraces diversity," states Kayla Root, founder of Beyond Equality, Inc. "I grew up with a lot of passions that went against the grain, like muscle cars, PC Gaming, archery, playing in a rock band (in addition to
being self-taught on 10 musical instruments) and a love of math and science and I encountered a lot of resistance, but my mom always told me to do what I love, no matter what.
"Her support inspired me to work through the critics and constant resistance towards my participation in the things that I love." In additional to the non-traditional hobbies, Root loves competing in pageants and developed her platform around supporting diversity by valuing individual experiences. "Experiences that teach us courage will help us to endure difficulties in all areas of life," says Root.
"I formed Beyond Equality Inc., after winning Miss Philadelphia's Outstanding Teen pageant in 2016. I wanted to take my platform to another level, and while I enjoy talking about my experiences, I believe I can make BE Courageous into a movement – one that will gain support, recognition, and inspire others to follow their dreams and passions and when they excel, society benefits."
Root believes that the application of neuroscience will help society move beyond current diversity efforts. "We are scientifically "programmed" by our brains as a result of millions of years of evolution to seek out those that look and behave like ourselves. It's part of the survival mode that encourages us to have preferences for features and behaviors most similar to our own, as an evolutionary mechanism for preservation. Many of today's diversity efforts fail because they simply tell us we need to change our behavior, but that can't always work against millions of years of evolution."
Root states, "What I am trying to do is to disrupt prior behavior (traditional thinking) with a replacement behavior; seeking the value in individual experiences. Once we become curious about the experiences of an individual, we can find commonalities in them and then start to value them.
"That is how I hope to utilize science to change society, and if it takes one individual at a time, I'm going to try," declares Root. "My mom told me about Bailey, the daughter of a friend and work colleague of hers. I decided to give Bailey the BE Courageous award, which is accompanied by a $100 scholarship after hearing about her love for football and sharpshooting. These activities take courage and I wanted to recognize Bailey for following her passions."
At the moment, only a few BE Courageous awards are scheduled to be given this year, but as nominations and donations increase, the goal is to increase the number of awards and amount of scholarship money given per reward.
Donations can be made on her website
www.beyondequalitynow.com
or via PayPal to paypal.me/BeyondEquality. Nominations for recognitions can be made at the website or on Facebook.com community - Beyond Equality, or via facebook.com/rootkayla/.
If you would like more information about this topic, please call Karen Root at 570-972-6372, or email karenroot1@gmail.com.
Bailey McQuarrie is a sophomore at Seabreeze High School in Daytona Beach, FL. She is the the Quarterback and Co-Captain of the Varsity Flag Football Team, a Cheerleader for Seabreeze High School, an athlete with the Special Olympics program, volunteer cheer coach for the Pop Warner organization, in the Medical Academy and a member of the Spanish Honor Society. She is looking forward to trying out for the Girls Golf and Weightlifting Teams at Seabreeze next year. She has been recognized for several years as a First Team All-American Scholar for Pop Warner. This is an award and scholarship that recognizes academic achievements and puts Bailey in the top 2% of approximately 325,000 children that take part in the Pop Warner Little Scholars' football and cheer programs nationwide! Bailey hopes to study in the medical field in college.
Kayla Root is a sophomore at Penn State University, studying Microbiology and Physics, with the ambition to become a veterinarian. She is a member of the National Diversity Council and is working on content for corporations to encourage workplace diversity program improvements using her approach. She continues to pursue her passions, including pageantry and will be competing in December 2018 for Miss PA USA.
Contact: Karen Root, Beyond Equality, Inc.
Phone: 570-972-6372
Email: karenroot1@gmail.com
Contact
Beyond Equality Inc.
Karen Root
570-972-6372
beyondequalitynow.com

Contact