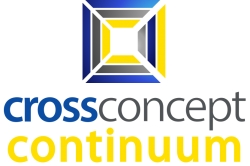 Toronto, Canada, May 02, 2018 --(
PR.com
)-- CrossConcept co-founder & VP of services, Walter Perdigao commented, "After spending years deploying and supporting PSA solutions, we found that many established solutions concentrated on adding non-core functionality and lost focus on the end user. Working with clients like GE and Hitachi, we've learned what best practices work and decided to build CrossConcept Continuum using that experience to focus on the end user needs in the core areas of time, expense, resource and project management as well as invoicing. CrossConcept Continuum was designed using customer feedback to meet customer demands and adapt to their needs."
"The platform is very easy to use, understand, and makes it simple to manage all your project management activities at one glance. I love their flexible billing options." - Net2Net IT Solutions
CrossConcept Continuum provides service organizations with an all-in-one, modern professional services SaaS solution that is easy to implement, simple to use and can be customized to scale with a customer's needs today and in the future.
CrossConcept Continuum goes beyond traditional PSA solutions available today by incorporating cutting-edge UI technology making the solution more user-friendly, resulting in fewer clicks within the solution and time spent logging data. CrossConcept claims an innovation in their time-scheduling module which offers the end-user functionality that has never been seen before in PSA.
Additionally, CrossConcept Continuum has been built from the ground up to integrate with all major accounting systems and seamlessly synchronize projects and accounting within one unified system.
CrossConcept Continuum's features include:
Time & Expense Tracking – See and track the time and expenses associated with any project.
Resource Management – Central dashboard view and management of your entire organization's resources.
Billing & Invoicing – Integrated time-tracking and invoicing.
Project Management – Collaborate on projects and maintain real-time and accurate project status.
Reports & Dashboards – Stay informed with real-time reports within customizable dashboards.
Gantt Charts – Real-time insights on how tasks progress against your projects.
CrossConcept is offering new customers an opportunity to trial their solution for 14-days with special pricing. This could be a great opportunity for any services business to figure out if PSA is the right solution for them.
To learn more about CrossConcept Continuum, visit:
www.crossconceptinc.ca/crossconcept-continuum
About CrossConcept
CrossConcept is a multi-award winning, Canadian-based leader in professional services automation (PSA). CrossConcept was founded in 2010 by partners Walter Perdigao and Tony Abou-Akl, who have been developing and implementing PSA software for leading Professional Services Automation software vendors since the segment emerged in the 1990s. CrossConcept has over one hundred years combined experience helping service organizations automate processes.
For More information, visit:
www.crossconceptinc.com