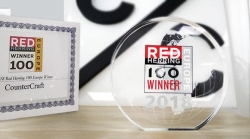 London, United Kingdom, May 02, 2018 --(
PR.com
)-- European market-leading cybersecurity company,
CounterCraft
, collected two coveted industry awards this month in celebration of its pioneering contribution to the European and global cybersecurity industry and information technology market.
CounterCraft has been listed as one of the top 100 private companies in the European region in the Red Herring 100 Europe 2018 awards. This forum recognizes those who are leading the charge across many tech sectors and selects those positioned to grow at an explosive rate. The 2018 Top 100 Winners list was announced last week in Amsterdam.
Red Herring Europe 2018 discusses the drivers for successful entrepreneurship, demonstrate how innovation is creating business opportunities for challengers and incumbents alike, and explore the future of the region as a global player.
Michael Eaton, Product Marketing at CounterCraft said, "Being recognised by Red Herring, with its 25-year track record of identifying tech entrepreneurs and innovation is important for us as we bring a new approach and technology to Cyber Security through our innovative Cyber Deception Platform."
CounterCraft's team of deception artists also collected their 2018 Info Security Product Guide Global Excellence Award for Startup of the Year last week at RSA Conference 2018 annual red carpet awards dinner. These prestigious global awards recognize cybersecurity and information technology vendors with advanced, ground-breaking products, solutions and services that help set the bar higher for others in all areas of security and technology.
Richard Barrell, Product Manager at CounterCraft said, "We are proud to be recognized as an industry player by Info Security Products Guide. The deception platform market is emerging with a huge potential, and this award is a validation of our place in the market."
The CounterCraft Cyber Deception Platform represents a radical approach to using deception as cyber counterintelligence. This highly innovative solution challenges traditional network security by allowing attackers to access simulated data in a controlled environment, continuously developed to harness the innovation exhibited by cybercriminals, and used it to better understand their minds and their motives.
"Receiving recognition from such respected organizations with these two recent awards is a privilege following our last successful investment round and successful release of the new CounterCraft Cyber Deception Platform," said David Barroso, founder and CEO. "We're innovating at pace to continue to tip the balance in favour of the defender with enhanced, automated deception technology."
CounterCraft will add these recent acknowledgments to a host of prestigious awards already received. These include "21st Century Basque Entrepreneur Awards," organized by La Caixa and the Business Development Basque Agency SPRI; the "Toribio Echeverría" award for new companies; the SIC Information Security Award for founders; and the San Sebastian Development Award for the youngest, most innovative and promising company.
CounterCraft was also winner of the Spanish INCIBE (National Institute of Cybersecurity), acceleration program, and has participated in the first edition of the GCHQ cybersecurity acceleration program in the United Kingdom. Currently, the company is participating in the Bind 4.0 industrial cyber accelerator run by the Basque Government and is a current cohort member of Momentum London in the UK.