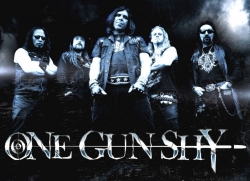 Seattle, WA, May 06, 2018 --(
PR.com
)-- The Seattle-based Rock and Roll band, One Gun Shy, will release their third album in the Summer of 2018 through an exclusive co-labeling agreement between Momma Lynn Records and Lime & Dime Records. "Our co-labeling venture has resulted in an extraordinary album. This is the culmination of the band's musical vision and the collaborative hard work of several Pacific Northwest Music Professionals living in our community. These people are your friends and neighbors and I am proud to have worked with them," said Momma Lynn Founder and CEO, Michael Decker.
"Hard Rock music is making a resurgence in the Seattle Music Scene and One Gun Shy is part of that effort," said Decker. The band loves to joke around and hangout with their fans, but take their music very seriously. Many fans have commented on how well the band plays together and about their solid live performances. When asked why the fans acknowledge the band's level of precision and polish, Decker said, "One Gun Shy delivers crunchy and gritty melodic Hard Rock music. Period. This isn't some 'part-time bedroom band' recording stuff on their iPhones. These are veteran musicians who use professional gear, create a professional sound, and make professional recordings."
"The term 'One Gun Shy' is a guitar reference, meaning that one guitar is missing from the ensemble. In the early stages of the band formation, the guys wanted another guitar player. They kept placing ads on Craigslist, but to no avail. So, they were, as it seemed 'one gun shy' and the name stuck." Julia Hodges, The Husky Herald - The University of Washington - Bothell Newspaper.
The band is comprised of drummer and founding member, Chris Womble along with bassist Dave Leighton anchoring the thunderous, hard-driving rhythm section. Guitarists Issa Koberstein, and Perry Dillard, are the primary guitar players who seamlessly trade licks reminiscent of dueling guitar bands like Iron Maiden and Judas Priest. Lead Singer Neriah "Stone" Heart adds vocals and yet another guitar for some songs. Certainly, the band no longer lacks any guitar fire-power.
"'Eye of the Storm,' consists of 11 tracks recorded at Robert Lang Studios in Seattle, Washington, with secondary recording and Mixing and Mastering performed by Tim Sage at Studio Sage in Edmonds, Washington. The title-song for the new album features a heavy, guitar-driven composition that will appeal to fans of Theory of a Deadman, Soil, Three Days Grace, Shinedown and other similar acts." - Philip Sayblack – Philspick
http://www.onegunshy.com/wp-content/uploads/2015/08/One-Gun-Shy-Eye-of-the-Storm-Master-06-22-17.mp3
Check out One Gun Shy at: http://www.onegunshy.com/ and on all the Social Media platforms for news and upcoming events.
Contact One Gun Shy: artistcontact@mommalynnmanagement.com
The Momma Lynn family of companies: Momma Lynn Records, Momma Lynn Publishing, and Momma Lynn Management, serve the Great Pacific Northwest with offices in Seattle, Washington and Poulsbo, Washington on the Kitsap Peninsula.
Contact Information
Momma Lynn LLC
SAFECO Plaza
1001 4th Avenue, Suite 3200
Seattle, WA 98154-1003
(866) 699-2515
www.mommalynn.com