Curatio on a Mission to End Stigma & Loneliness for World Thalassemia Day
No Patient Alone - Curatio uses the power of private social networks to make living with a health challenge less isolating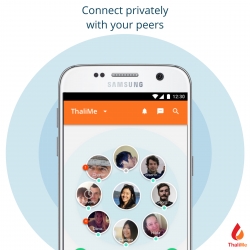 Las Vegas, NV, May 08, 2018 --(
PR.com
)-- Curatio today in celebration of World Thalassemia Day launches new programs for thalassemia patients around the globe through the ThaliMe app. ThaliMe is a private social network powered by Curatio that provides peer support, trusted information and personalized programs for individuals with thalassemia. By combining matchmaking technology, curated content and easy-to-use disease tracking tools, the platform puts health empowerment and support in the hands of patients.
Thalassaemia is a genetic disorder of the blood and belongs to the wider family of haemoglobin disorders. Approximately 7% of the world population is a carrier of a severe haemoglobin disorder, including thalassaemia, and between 300,000-500,000 thousand children are born each year with a severe haemoglobin disorder. Patients living with Beta Thalassemia Major require routine blood transfusions and are expected to adhere to a regimented medication and monitoring schedule for their entire lives. The lifestyle and stigma of coping with this disorder are significant and many patients confront these challenges alone. With the new programs announced for ThaliMe, patients dealing with this disease will be able to connect with each other for peer support, curated content and education, along with easy to use disease management and tracking tools – all from their mobile device.
"People living with a rare disease can experience incredible stigma and isolation, which we know can negatively impact everything from health outcomes to adherence to quality of life," says Lynda Brown-Ganzert, founder and CEO of Curatio, the platform powering the ThaliMe app. "ThaliMe was created to give the global thalassemia community a private social network where they can connect with others, use monitoring and medication tools designed specifically for the condition, and get hope, inspiration and education from trusted peers. The users own their own data and have control over their privacy – important aspects in a community where social stigma and isolation are often significant barriers to achieving positive health outcomes," says Brown-Ganzert.
Through ThaliMe's private and free platform, patients, caregivers and families can:
· Connect privately with peers via Curatio's proprietary matchmaking technology that finds patient "buddies."
· Track their symptoms daily and use monitoring journals designed specifically for thalassemia.
· Participate in curated programs, self-assessments and research that provide new insights and learning.
· Enjoy points rewards system and challenges that motivate and inspire.
Curatio has found that social support is the missing link in healthcare, with 75 percent of its initial users already showing improved health behaviours and an 80 percent increased interest in personal health management. With Curatio, patients can protect their privacy while choosing what type of support they want and need, right from the palm of their hand.
The ThaliMe app is free to download on iOS and Android devices in the
App Store
and Google Play and available in English, Greek and Arabic. The platform is also available for licensing to hospitals and healthcare providers, payers, pharmaceutical companies, government and NGOs in a white label or sponsorship model.
Video
https://vimeo.com/250498781
Video
https://vimeo.com/250496382
About Curatio
Curatio is the world's first private, global social community for patients that promotes social connections to improve overall wellbeing and health. Curatio delivers engagement and long-lasting connections in over 65 countries through disease-based peer networks and personalized health monitoring tools to improve health outcomes for patients and help them feel a sense of community while on their health journey. Healthcare providers, payers, pharmaceutical, government and NGOs license the Curatio platform as a personalized co-therapy to empower scalable, cost-effective self-management.
Curatio is at booth #501 at the HLTH conference in Las Vegas.
Media contact: info@curatio.me
To download the app:
https://thalime2.app.link/nkqUcnVE2L
Contact
Curatio
Lynda Brown-Ganzert
604-340-7997
curatio.me

Contact