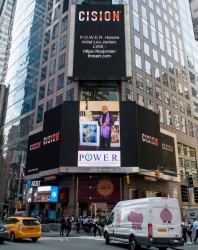 New Orleans, LA, May 26, 2018 --(
PR.com
)-- Lou Jordan of New Orleans, Louisiana has been honored on the famous Reuters Billboard in Times Square in New York City by P.O.W.E.R. (Professional Organization of Women of Excellence Recognized) for her outstanding contributions and achievements for over 40 years in the field of fine arts.
About Louise (Lou) Jordan, LWS
Lou Jordan is an Artist through her business Lou Jordan Fine Art and has also been a dedicated Art Instructor. She lives in the middle of New Orleans, but can walk out her back door 20 feet to Bayou St. John and watch fish jumping, puffy white clouds reflected in mirror-still waters, and an endless array of spectacular and inspiring sunsets - abstracts of sky and water. This is what she paints: luminous veils of transparent watercolor, the velvet night-sky over the bayou, bridges which are metaphors, moods of peaceful reverie that she treasures in her Bayou. She also paints the New Orleans spirit of fun: funky jazzy collages and brilliant acrylic canvases full of color and geometry, all done in time to disco and rock and roll! An inspired teacher, workshop presenter and art-show judge, Lou has sold over 300 paintings in the past ten years from her Bancroft home and gallery.
In addition to her managerial positions, Lou creates art. She specializes in alcohol ink paintings, cosmology, skyscapes and lyrical watercolor abstracts. After the upheaval and destruction of the Katrina flood, Lou and her husband Pat, stuck it out, but she was unable to paint until two years later as all her creative energies were taken up with repairing the damaged city, her flooded home and studio and dealing with the anxiety all around her. Finally, in the fall of 2007, her pent-up images burst forth. She left the landscape art she was known for and began painting very large, very bright acrylic canvasses, abstracting into geometric forms the playful carnival aura of New Orleans. She then began to experiment painting with watercolor of Yupo, a slick plastic surface where she can manipulate the paint, producing wonderful textures and super-bright colors. Then after a workshop in planned abstraction with John Salminen, AWS, she learned to play with shape and color, producing paintings that are described as strong, bold and sculptural.
Lou was a Past President and signature member of the Louisiana Watercolor Society from 1999 to 2001. She was featured in International Artist Publications' book, "100 Ways to Paint Flowers and Gardens" in 2004 and was featured in "Gulf Coast Arts Review" "Madame President" in 2000. She received First Prize in the Louisiana Watercolor Society Member Show in 1996 and 1999 and Second Prize in 2002. She won the Faculty Award from the New Orleans Academy of Arts in 2002. Lou's work has been exhibited across the United States in group and solo exhibitions. She has presented at Juried Shows and galleries in Louisiana and Mississippi.
Born on Christmas Day in China, Lou obtained a M.A. in Fine Arts from Smith College. She attended The Torpedo Factory in Alexandria, Virginia, instructed by Joe Mayer and Marj Alderson. Lou also attended the New Orleans Academy of Fine Arts studying under numerous teachers. She worked for St. Lawrence Catholic Church in Alexandria, Virginia as a parish secretary before moving into a director role at the American Institute of Biographical Sciences. In the early 1990's, she served as the executive assistant to the president of Lawrence Technical University. She has also taught art at the New Orleans Jewish Community Center.
Lou states, "My husband Pat Jordan is now retired and twice as busy as when he was working!" She recognizes her husband with this honor.
For further information, contact www.loujordanfineart.com.
About P.O.W.E.R. (Professional Organization of Women of Excellence Recognized)
P.O.W.E.R.'s mission is to provide a powerful network of women who will mentor, inspire and empower each other to be the best they can be. Through our valuable services, and collaborating with like-minded professionals, our members can gain the recognition and exposure to achieve their career goals. P.O.W.E.R. offers exposure through their website as well as their digital and print quarterly magazine.