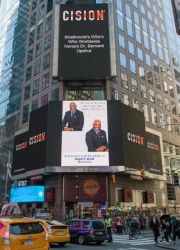 Palm Coast, FL, May 30, 2018 --(
PR.com
)-- Dr. Bernard L. Upshur of Palm Coast, Florida has been recognized on the famous Reuters Billboard in Times Square in New York City by Strathmore's Who's Who Worldwide for his outstanding contributions and achievements in the field of software bidding.
About Dr. Bernard L. Upshur
Dr. Bernard Upshur has over 33 years experience in many fields. Currently, he is the President of InfoBid Corporation which is an international information technology company that provides electronic bidding for software businesses. He developed software for competitive bid buying for corporations.
Dr. Upshur is a Permanent State of New York District Administrator and a Permanent State of New York School Administrator and Supervisor. He has published numerous articles and research papers in art, psychology and about India. He is a Rockefeller Fellow recommended by Fordham University, a National Teaching Fellow at the University of Maryland, and part of the South East Asia Program for India through the U.S. State Department and the New York Department of Education. He received the award for Black Artist on Art. Dr. Upshur has also received grants from the Maxwell School of International Affairs at Syracuse University and the NIE Research Grant in Psychology.
Dr. Upshur began his career as a Harrison Bell Consultant in Product Distribution and later directed research products in Psychometrics Research Projects in Brooklyn, New York. He was a Board Member of the Psychological Counseling Center for the Psychological Research Grant National Institute of Education and served as the Director for the State of New Jersey Urban Research and Development Institute through the New Jersey State Department of Education. Dr. Upshur then served as a Lecturer of Advanced Statistics, Operations Research and Corporate Social Responsibility and Management Theory on campus for the GE Astrospace and Fort Monmouth for Naval Officers at Monmouth University Graduate School of Business. He was an Adjunct Assistant Professor for the Doctoral Program in Quantitative Decision Making at Fordham University and an In Service Instructor and Assistant Superintendent for the New York City Board of Education at Cavallaro Junior High School. He was the art teacher, art advisor for national award-winning literary/art magazines and directed major school plays. Dr. Upshur served as an Assistant Professor of Fine Arts at the University of Maryland. He then began as an Associate and Manager of Treasury Services at Goldman Sachs and Company.
Born in Exmore, Virginia, Bernard obtained a M.A. in Education from Hunter College, a M.B.A. in Finance and Corporate Affairs from Columbia University, a P.D. in Urban Studies and a Ph.D. in Psychology in 1976, both from Fordham University. He is a Microsoft Certified Professional (MCP) since 1984.
In his spare time, he enjoys golf and tennis.
For further information, contact
www.infobid.us.
About Strathmore's Who's Who Worldwide
Strathmore's Who's Who Worldwide is an international advertising, networking and publishing company based in Farmingdale, New York. They are proud to be able to satisfy their clients and continue to have repeat clientele due to their longevity and pride in their products and services. The Owners strive to connect business professionals to enhance their contact base and networking capabilities so they can get the acknowledgment and publicity within their industries and beyond. The Strathmore family has been providing these valuable services for over two decades. They target executives and professionals in all industries to be featured in their publication and on-line directory. Industries include business, law, education, healthcare and medicine, fine arts, IT, government, science, real estate, entertainment and many more accomplished fields. Professional profiles are listed in an annual hardcover journal and in a detailed, searchable database on the website www.strww.com.