A Japanese Best-Selling Picture Book Artist Solo Art Exhibition
NYC Event Space's 4W43 Art Gallery is hosting the famous Japanese comedian, story book author and artist, Akihiro Nishino's solo art exhibition from May 27th to June 3rd 2018.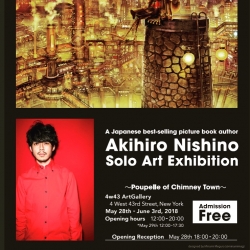 New York, NY, May 17, 2018 --(
PR.com
)-- faSaeki International Co., Ltd. is pleased to announce the opening of Akihiro Nishino Solo Art Exhibition – [Poupelle of Chimney Town] – on view at 4w43 Art Gallery (NYC Event Spaces), 4 West 43rd Street, NY, NY, 10016 from May 28th – June 3rd 2018.
Nishino will be collaborated with Augmented Realty unit AR3Bros for this exhibition.
This is the artist's second solo exhibition in the US.
Poupelle of Chimney Town Story
There was a town isolated from the outside world by four thousand meter high cliffs that surrounded it completely. The town was full of chimneys. Smoke rose from everywhere, and overhead the sky was filled with thick smoke. Smoke. Smoke by day, and smoke by night.
The people of Chimney Town were shrouded in black smoke. They didn't know about the blue sky. They didn't know about the shining stars.
This is the miraculous story of a man made of garbage, and the chimney sweep Poupelle.
About the artist
Born in 1980 in Japan, Nishino is well known as a comedian and TV personality in Japan, his wide range of literally activities are highly praised. He writes various scenarios for comedy shows, and stage plays. In 2009, he published his first book; "Dr. Ink and Starry Sky Cinema" using only a 0.03mm sketching pen. Also published in Japan is "Zip & Candy; Christmas of Robots," and "Music Box Planet."
Akihiro Nishino's latest work, published in October 2016. 350 thousand copies have been sold so far, making it a best-seller in Japan. Nishino, with his team of 40 creators, took 4 years and half to produce this work, funded by two crowd funding campaigns that raised ¥565mil. (approx. $500k) in donations from over 9,550 people.
For more information Contact: info@saeki-international.co.jp and http://www.yoshimoto.co.jp/poupelle
Contact
NYC Event Spaces 4W43 Art Gallery
Hiroko Onishi
518-859-7123
www.nyceventspaces.com

Contact