True Green Enterprises Announces Competitively Priced Tree Free Paper Straws
New Patent Pending Paper Straws made from Rapidly Renewable Resources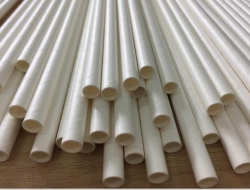 Boca Raton, FL, May 16, 2018 --(
PR.com
)-- 500 million plastic straws are used in the USA with many ending up in our Oceans and endangering our wildlife. True Green Enterprises has developed a patent pending paper straw utilizing Rapidly Renewable Resources.
"Our mission is to offer environmentally friendly products and our Tree Free Paper Straws are a very important new addition to our product line. We believe in living responsibly and through our efforts making a positive impact on our earth. We are dedicated to creating a future for our children by sustaining our earth's precious resources," said Terry Lehmann, CEO.
In addition to their Tree Free Bath, Facial, Towels, Napkins, Plates, Bowls, Cups and Copy paper True Green Enterprises offers a 7.75" 5000 to a case and 10.25" 6000 to a case Tree Free Paper Straw at competitive prices.
Contact
True Green Enterprises
Sonya Wheeler
844-728-3873
www.truegreenpaper.com

Contact