flynas Launches Direct Flights to Hyderabad, India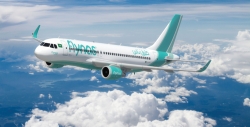 Riyadh, Saudi Arabia, May 17, 2018 --(
PR.com
)-- flynas, the national leading low-cost carrier airline of Saudi Arabia, announced the launch of new and direct flights to Hyderabad-India, as part of its global expansion plan in 2018. Hyderabad flights are now available for booking via all flynas booking channels. The first flight will take off on the 29th of June 2018.
flynas will operate two flights a week between Riyadh and Hyderabad, every Thursday and Saturday, starting from 12:30 am and arrive in Hyderabad at 8:00 am, while flights from Hyderabad to Riyadh will start at 8:55 am every Friday and Sunday.
Complimentary meals for both Plus and Premium fares, as well as free luggage weight of 20 to 40 kg will be offered on flights between Riyadh and Hyderabad.
Flights can be booked through sales agents, flynas' website, www.flynas.com, flynas' smartphone application, or by calling flynas 24/7 at their call centre on the number: 920001234.
About flynas:
Established in 2007, flynas is the national Saudi Carrier and the leading low-cost airline in the Middle East with a fleet of 30 Airbus A320 Aircraft, operating over 1,100 flights weekly to 17 domestic destinations and 53 international destinations. Since its launch, flynas has successfully carried more than 38 million passengers from its bases of Riyadh, Jeddah, Dammam and Abha.
flynas' high value offerings, on-time performance and superior customer service earned flynas the award for Middle East's Leading Low-Cost Airline from World Travel Awards 2015, 2016, 2017, and 2018, as well as the prestigious Skytrax Award for Middle East's Best Low Cost Airline in 2017.
Contact
flynas
Dania Koujan
+966541821820

Contact