"Heart of Gold" Novel Empowers Women
At a time when women's empowerment is on the forefront of our current culture, Rebecca Nietert has written a very shocking tell all novel about one woman's struggle for love and independence. The first novel, "Heart of Gold," explains what can happen when the main character allows an unworthy man to make her life decisions for her. The novel discusses in intriguing detail, the lengths of manipulation her self centered man will go when he has full power over her well being.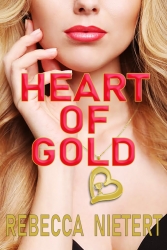 Murphy, TX, May 18, 2018 --(
PR.com
)-- "Heart of Gold" is a fast-paced, page-turning, shocking tell-all of a young woman named Beverly White, as the sheltered upbringing of her youth changes to disillusioned adulthood. Set in Houston, Texas, Beverly experiences independence and exploration in the dazzling new world of the Have's and Have Not's. She plays in the world of the rich, the very rich. Phillip turned her into his life-size Barbie doll. She trusts him to create her anew, but she misplaced that trust, as his motives are far from flawless. Beverly uses her own manipulation and feminine wiles to work the high stakes in her favor, to out play Phillip at his own games and escape into the arms of Joseph, a debonair modern-day cowboy in every sense of the word. If Beverly wants to ride off into the sunset and find her "happily ever after," she is going to have to learn how to love herself.
"Heart of Gold" is published by:
Easton Press, Inc., an independent literary press, Denver, Colorado
ISBN: 978-1-4951-8954-8
Published 1/15/2015 © All rights reserved
Available to purchase at: MAJOR BOOKSELLERS
https://www.barnesandnoble.com/w/heart-of-gold-nietert-rebecca/1128505630?ean=9781495189548
Signing at BookExpo at Javitz Center in New York, June 1st at 2 P.M. - Table 6
Rebecca Nietert is a speaker, blogger and author of Heart of Gold, Chasing Fairytales and Provocative Confessions. She currently speaks at women's empowerment seminars, and church affiliations. She founded both Bayou Writer's Club in Mandeville, Louisiana, and Lone Star Writer's Club in Plano, Texas, where she hopes to inspire new authors to tell their story. She's celebrating her 25th wedding anniversary, and has just adopted three children who lost both their parents due to cancer. She and her husband have two biological children of their own. Rebecca's blended family resides in Murphy, Texas.
Contact Information: Rebecca Nietert can be reached at RebeccaNietert@Yahoo.com
Website: www.RebeccaNietert.com/store
Wordpress Blog: www.RebaNietert.com
Twitter: @RebeccaANietert
Facebook: #RebeccaNietert
Contact
Easton Books, Inc.
Rebecca Nietert
303-525-1373
Easton-Books.com
www.rebeccanietert.com/store

Contact