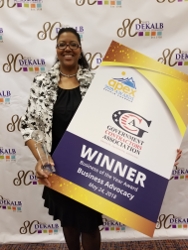 Atlanta, GA, May 26, 2018 --(
PR.com
)-- The Government Contractors Association (GCA) is pleased to be the winner of DeKalb Chamber's 2018 Business of the Year Award in the Business Advocacy Category. GCA was honored during the 2018 APEX Business Awards Ceremony on Thursday May 24, 2018. Qualified nominees for the business advocacy award must serve other business based in DeKalb County, show evidence of community-oriented projects and must demonstrate how they assist other businesses.
GCA is a membership organization with a mission to Educate | Facilitate | Advocate for Small Business owners. Their vision is to create access. That includes access by small businesses to decision makers at government agencies through their association meetings and special events. As well as access by contracting officers to qualified, certified small and diverse businesses whom they struggle to find.
At their headquarters in DeKalb county, they host weekly workshops, monthly association meetings, training boot camps and special events; all designed to teach their members and clients how to win government contracts. GCA's DeKalb county HQ is also home to Origin: A Co-Working Space, where they currently provide office space to 12 business owners.
GCA practices a "40 – 1" philosophy where all employees pledge to volunteer 1 hour of each 40-hour work week to a charity of their choice. And every year, during founder's week, the company celebrates by volunteering a local food bank.
One of GCA's clients and ambassadors, Bukie Opanuga, President of Modavate, is a testament to how the company assists their clients. Modavate was honored in the company's prestigious "Winner's Circle" in February after having been awarded a contract with the CDC for $901,000. Success stories like Modavate's are why GCA is committed to what they do and why they appreciate the recognition by the DeKalb county Chamber of Commerce.