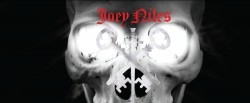 Woodland Park, NJ, June 04, 2018 --(
PR.com
)-- The purpose behind Death Has No Friends is to get a very important message out to those who would listen. It is not about the writer Joe Aponte aka JoeyNiles, it is about a message of love, reaching out and a warning to those who oppress and abuse others from a higher power. A reach out to those who are contemplating suicide, murder, and similar atrocities. There is a higher power, and He is reaching out to all who would listen through this single. Don't concentrate on the man, just listen to the message. The writer JoeyNiles hopes it will save lives and help to stop all these killings. Change begins in the heart.
This single will be available for pre-order starting on 6/2/2018 through iTunes and Google Play. It will also be available on all popular music streaming outlets.
About:
Joe Aponte, aka, JoeyNiles has played in bands since 1980's. He has played in the original band called Heavy Artillery later called Blue Waters, was a co-writer in the band and now is writing 100% of his own material.
www.reverbnation.com/joeyniles/song/17209668-death-has-no-friends