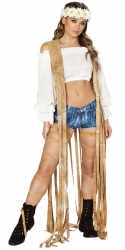 Hollywood, CA, June 06, 2018 --(
PR.com
)-- With festival season fast approaching, the urgency to find the perfect outfit is the word on everyone's lips and across the world of social media.
Online lingerie and fashion website, Musotica, presents their latest
festival collection
which answers to the trend-hungry masses, curated to allow wearers to express their unique style.
The 2018 collection is inspired by the best festivals in the US and the quirky fashion of Las Vegas nightclubs. Items consist of a selection of vibrant prints and materials in a variety of new and innovative styles.
The new designs include stretch materials in denim look, tie-dye, velvet and iridescent prints. The key pieces include high cut bodysuits and high-waisted shorts, as well as crop tops.
When asked about the inspiration behind the collection, Musotica's founder and celebrity stylist, Sarah Wallner, said, "This entire collection has been lovingly curated to ensure our customers feel incredible and can really let their unique style shine through."
These outfits are embellished with a variety of designs, with fringing, plunge necklines, fishnet, cutout, velvet, two-tone sequin, lace-up and strappy detail being the highlights of the festival and super-club wear styles.
Sarah reflects that the collection was inspired by the bright and bold fashion often seen at the Electric Daisy Carnival, Burning Man and Coachella festivals.
Sarah added, "We've also added lots of new accessories to compliment, including gartered leg wraps, chaps and chokers in vibrant iridescent and tie-dye prints."
"Taking influence from EDM and techno festivals, as well as clubs. We've nailed the key trends this seasons such as the use of long fringes, the color purple and an overload of accessories."
Musotica are excited to see their customers reactions to the new collection within the festival and club circuit, with some styles even being lined, allowing for use in pools.
Get inspired further with their latest festival and super-club outfit and accessories collection and blog post: How to get festival-ready this summer.