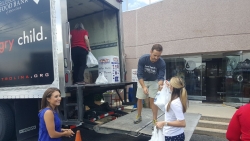 Charlotte, NC, June 07, 2018 --(
PR.com
)-- Charlotte plumbing company E.R. Plumbing Services is partnering with local TV station Channel 9 WSOC-TV for the 2018 Charlotte 9 Food Drive. This is the 13th year the food drive has served the community, stocking the shelves of local food pantry Second Harvest Food Bank.
Summer is a tough time for families in need. When school is in session, over 75,000 children in the Charlotte Mecklenburg School System benefit from the free or reduced lunch program. However, in the summer, when school is not in session, these children do not have the guarantee of a lunch or breakfast served by the school system. More than 500,000 people in the Charlotte area are living at or under the poverty level, so the need is significant.
Food pantries that receive supplies from Second Harvest Food Bank have reported that requests for assistance are high and donations have been low this year. In addition to donations of canned non-perishable food, pantries are also requesting donations of canned or non-perishable pet food (cat food or dog food, unopened). When families are unable to feed the people in their households, pets are often overlooked.
The 2018 Charlotte 9 Food Drive runs from May 11th through Sunday June 10th, 2018. Those interested can drop off non-perishable canned goods at the E.R. Plumbing Services office, located at 648 Matthews Mint Hill Rd Suite C in Matthews, NC 28105.
E.R. Plumbing Services is partnering with Channel 9 WSOC-TV to staff a special donation day Wednesday June 6th between 10am–7pm at the WSOC-TV studio located at 1901 N. Tryon Street in Charlotte, NC 28206.
Those interested in participating can drop off donations at the E.R. Plumbing Services office and learn more about the company's ongoing, year-round charitable efforts at the company's website page about E.R. Plumbing Services and the Charlotte community.