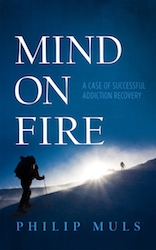 Tucson, AZ, June 12, 2018 --(
PR.com
)-- Philip Muls was on the verge of losing his family and possibly his career as a sales director for a high-profile international corporation. He had already been through rehab for alcohol addiction three times. If this fourth attempt at recovery failed, he could lose his career, his marriage, perhaps even his life.
Now Muls is not only a recovered alcoholic but an award-winning author. LWS Literary Services is pleased to announce that Muls' new memoir, "Mind on Fire: A Case of Successful Addiction Recovery," which chronicles his inspiring and at times harrowing journey to sobriety, was chosen as a Finalist in the Addiction and Recovery Category of the 2018 International Book Awards sponsored by the American Book Fest. Two thousand books were entered by mainstream and independent publishers.
"These days, addiction touches far too many lives," says Lynn Wiese Sneyd, owner of LWS Literary Services, the agency representing Muls. "I've witnessed a family member and a dear friend struggle with addiction. In fact, I participated in my friend's intervention. It was really difficult, far more difficult than I expected. When I read Philip's book, I knew that I had to help him spread his message of hope."
In "Mind on Fire," Muls recounts the tenuous year following his final try at rehab. For more than twenty years, alcohol had fueled his life. Day in and day out, he awoke desperately needing a glass of white wine. After leaving rehab, Muls enlisted the support of a therapist, who helped him to understand and deal with the overwhelming existential angst that often occurs during recovery. It was through her that Muls discovered the power of writing.
As Mules explains, "My therapist tried to convince me to find something new in which I could indulge myself. Photography, painting or something. But nothing really interested me until I started writing. Suddenly, I felt a kind of relief. Writing became my outlet. Two years after my last drop, I wrote 'Mind on Fire.'"
Muls decided to share his personal story in order to support others who are trying to break through their addictions. He admits that it can be a lonely journey, and he wants those dealing with addiction to know that they are not alone. There is tremendous support on the way to the summit of sobriety.
"After five years without having touched one drop," says Muls. "It is completely safe for me to say that I stopped and will never start drinking again. And I sincerely hope that a lot of people end up on the same good track."
Because of its success in the US and UK, "Mind on Fire is being translated into multiple languages. It is available from major online retailers. To learn more about the book and author, visit
philipmulsauthor.com
.