New Canadian Based Crypto Exchange, Correx.io, Takes on the Global Giants
Correx.io is a new cryptocurrency exchanged based in Toronto, Canada. They are licensed in the US as a Money Services Business. Traders have two platforms to trade on, a traditional exchange where makers (sellers) are paid 0.1% for every transaction and a QuickTrade option where dozens of altcoins are available to buy and sell.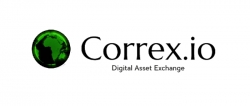 Toronto, Canada, June 07, 2018 --(
PR.com
)-- Over the last two years, several cryptocurrency brokers have come and gone. There are many reasons why. As Rex Thomas, spokesperson for
Correx.io
, explains, "Regulatory ambiguities, poor customer service and vulnerabilities to cyberattacks have forced many exchanges to shut down.
"We knew that to be successful, we had to address those issues in the planning stages and provide clients with the appropriate solutions. It takes at least two years to do it right."
Over the next 24 months, Correx.io came to life. Each area of concern was delegated to a team of experts that includes a world renown legal team, a customer service expert who also holds a PhD in psychology, well trained multilingual customer service representatives and lastly, a group of would-be hackers to rigorously test their security algorithm. Their trading interface is also very easy to navigate. As one trader, who agreed to test the Correx.io platform describes, "it's very fast and very easy to use."
Their fee schedule is also one of a kind. Makers or sellers earn an industry high +0.1% on every trade while takers or buyers pay 0.29%. All deposits and withdrawals are free.
In fact, Correx is the first licensed outfit to offer both a traditional exchange for professional traders who want to buy and sell the most liquid coins with the lowest fees and a QuickTrade option where dozens of coins are available including TRON, Monero, Zcash, and Tether.
Plans to expand globally were implemented right from the beginning. In fact, Correx became the first Canadian based exchange to be regulated in the United States as a Money Services Business by the Department of the Treasury's Financial Crimes Enforcement Network. They intend on having quite a presence in that lucrative market.
From their plush offices located on Bay Street, in the heart of Toronto's financial district, to their slew of algorithms, every detail reflects the months of planning and preparation that took place. Correx.io is set to launch QuickTrade today and their exchange will launch sometime next week. They do not accept nor transfer any fiat currency. The exchange only accepts cryptocurrency and plans on adding coins every month or as they say, "only the good ones."
Correx.io
, based in Canada, designed for the world.
Contact
Correx International inc.
Rex Thomas
1-888-552-1117
correx.io

Contact