Newly Certified Martial Art Master in Cartersville, Georgia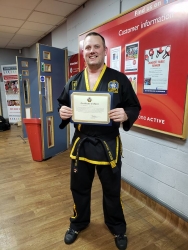 Cartersville, GA, June 08, 2018 --(
PR.com
)-- Micheal Wilson of CKD Martial Art & Self Defense of Cartersville (Choi Kwang Do) recently took a special trip to England where he participated in an international seminar held by Choi Kwang Do's founder, Grandmaster Kwang Jo Choi. During the event Michael was tested by CKD's founder (Grandmaster Kwang Jo Choi) as well as Grandmaster Pereira for 5th Degree Black Belt. As part of the seminar/training session conducted by Grandmaster Choi Michael was promoted to 5th Degree Master Instructor by Grandmaster Choi himself. Micheal was accompanied by seven of his students from Cartersville. One young student was tested and promoted to 1st Degree Black Belt and another brought home a gold medal while representing the USA in a team competition.
It is a very rare accomplishment to be promoted to a rank as high as master instructor and it is a great honor to have a local instructor from Cartersville reach such a milestone. It is also a great opportunity that CKD has offered it's students, allowing them to travel with CKD's founder across the world to experience new cultures, new places, extensive history as well as taking part in such a high profile martial art gathering, competition and training as well as the social aspects of meeting new people with similar interest.
The CKD Seminar featured children as young as five years old and as experienced as 73 years young.
Newly promoted Master Wilson hopes to bring increased motivation and knowledge from the event to better his community now that the group has arrived back home. Stop by and meet Master Wilson at CKD Martial Art and ask how Choi Kwang Do can benefit you or your child.
View highlights from the UK trip and CKD events at CKD's official Facebook page www.facebook.com/cartersvilleckd or on their webpage www.cartersvilleckd.com
Contact
Choi Kwang Do Cartersville
Angie Wilson
678-721-5166
cartersvilleckd.com

Contact