Martha L. Fulmer Recognized on the Reuters Billboard in Times Square in New York City by P.O.W.E.R. (Professional Organization of Women of Excellence Recognized)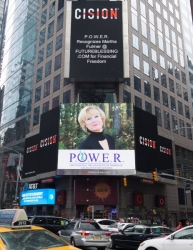 Goose Creek, SC, June 30, 2018 --(
PR.com
)-- Martha L. Fulmer of Goose Creek, South Carolina has been recognized on the famous Reuters Billboard in Times Square in New York City by P.O.W.E.R. (Professional Organization of Women of Excellence Recognized) for her outstanding contributions and achievements in the field of insurance. Times Square is considered the busiest area in Manhattan with approximately 330,000 people passing through daily, many of them tourists. Over 460,000 pedestrians walk through Times Square on its busiest days. It is also the hub of the Broadway Theater District and the world's entertainment industry. It is one of the world's most visited tourist attractions, drawing an estimated 50 million visitors annually.
About Martha L. Fulmer
Retiring as a Firefighter and EMT in Cleveland, Ohio, and moving South to Charleston, Martha (Marty) Fulmer became an insurance agent with Senior Insurance Solutions which she has done for the past 12 years. She specializes in working with seniors on their insurance needs, helping them gain access to Medicare supplements and life-to-final expense insurance. She markets insurance to all ages but her primary specialty is Baby Boomers and Medicare Supplements.
Ms. Fulmer is active in the Elks of Summerville and serves as the Secretary/Treasurer of the National Association of Insurance and Financial Advisors, Charleston Chapter. She is a candidate for a M.S. in Business Education.
In her free time, Marty enjoys gardening, bicycle riding and working out. Her greatest enjoyment is spending time with her two children and two grandchildren. She states, "Family is my number one reason for working toward a successful and profitable business so that I can help them out when needed, especially with college expenses."
"Only I can change my life. No one can do it for me."—Carol Burnett
About P.O.W.E.R. (Professional Organization of Women of Excellence Recognized)
P.O.W.E.R.'s mission is to provide a powerful network of women who will mentor, inspire and empower each other to be the best they can be. Through our valuable services, and collaborating with like-minded professionals, our members can gain the recognition and exposure to achieve their career goals. P.O.W.E.R. offers exposure through their website as well as their digital and print quarterly magazine.
Contact
P.O.W.E.R. (Professional Organization of Women of Excellence Recognized)
S. K. Koop
516-365-3222
www.powerwoe.com
Ellen Gold

Contact