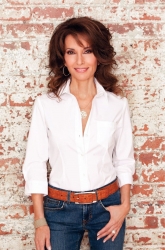 Garden City, NY, July 24, 2018 --(
PR.com
)-- Susan Victoria Lucci is an American actress, television host, author and entrepreneur. She is best known for portraying Erika Kane on the ABC daytime drama "All My Children" from 1970 to 2011. The character is considered an icon and Lucci has been called "Daytime's Leading Lady" by TV Guide.
Ms. Lucci was born on December 23, 1946 in Scarsdale, New York and grew up in Garden City, New York. Since she can remember, she wanted to be a performer, and through her teenage years, took voice lessons, dance lessons, and participated in community theater. In high school she performed in the school musicals, including having lead roles in "Oklahoma" and "The King and I." She attended Marymount College and graduated with a BA degree in Drama in 1968. Susan has been married since September 13, 1969 to Austrian businessman Helmut Huber. They are the parents of two children. Their daughter is soap opera actress Liza Huber and their son is Andreas Huber, an aspiring professional golfer. They have five grandchildren.
Ms. Lucci was nominated for the Outstanding Lead Actress in a Drama Series Emmy for her work on "All My Children" almost every year since 1978. After 18 failed nominations, she finally won in 1999. When presenter Shemar Moore announced Lucci's name, stating "the streak is over," the audience erupted in a standing ovation, lasting several minutes.
Ms. Lucci has appeared in a number of television series and television movies. Here are some of the highlights. In 1982, she did a cameo appearance in the comedy film "Young Doctors in Love." In 1986, she played the role of Darya Romanoff in the Golden Globe and Emmy Award–winning TV movie "Anastasia: The Mystery of Anna." In 1990–1991, she began a series of guest spots on the nighttime soap opera "Dallas." She hosted NBC's "Saturday Night Live" in October of that year; in one skit, she appeared as Erica Kane competing on a game show. In 1995, Lucci appeared in the Lifetime television film "Ebbie," an updated version of "A Christmas Carol." She played a Scrooge-like department store owner visited by Marley and the three ghosts on Christmas Eve. In 2004, she appeared as a guest star in two episodes of the ABC comedy series "Hope & Faith." In 1999, she played the title role of Annie Oakley in the revival of Irving Berlin's musical "Annie Get Your Gun." Beginning in 2010, Lucci has appeared as herself, the arch rival of Wendie Malick's character, Victoria Chase, in the TV Land sitcom "Hot in Cleveland" five times, including the February 1, 2012 episode entitled "Life with Lucci." She appeared in Gloria Estefan's music video "Hotel Nacional" in February 2012 and guest starred in multi-episodes of the sixth season of the Lifetime drama series "Army Wives." Susan hosted and narrated "Deadly Affairs," a prime-time series airing on Investigation Discovery as of 2012. On November 15, 2012 she appeared on "The Colbert Report" in a segment reflecting the soap-opera-like nature of the Petraeus scandal. In 2013, Lucci began starring as Geneviève Delatour in the Lifetime comedy-drama series "Devious Maids" created by Marc Cherry. In 2017, she played one of Kristen Bell and Dax Sherard's grandparents (with Henry Winkler) in SIA's music video, "Santa's coming for us." She also appeared in television ads for Progressive Insurance that were styled as a soap opera.
Lucci competed in Season 7 of "Dancing with the Stars" with dance partner Tony Dovolani. She was voted off the show on November 5, 2008, finishing sixth in the competition.
Among her numerous nominations and awards, Lucci won the Lucy Award from Women in Film in 1994, and numerous nominations and awards from "Soap Opera Digest" between 1986 and 2005. In 1996, TV Guide ranked Susan number 37 on its 50 Greatest TV Stars of All Time list. She won Favorite Female Performer in a Daytime Serial" from the People's Choice Awards in 2004 and the Muse Award from New York Women in Film and Television the same year. In 2005, she received a Star on the Hollywood Walk of Fame, won the MINY Award from the Made In New York Awards and Outstanding Female Lead in a Daytime Drama Award from the Gracie Allen Awards. She was inducted into the Broadcasting Hall of Fame in 2006, was named one of VH1's 200 Top Icons of All-Time and one of Barbara Walter's Ten Most Fascinating People. In 2013 she won the Ride of Fame Award. In 2015, Lucci was inducted as a Disney Legend. She was inducted into the prestigious Silver Circle of the "National Academy of Television Arts and Sciences" for her contribution of twenty-five years in entertainment in 2017. She recently shared in the celebration of the iconic Garden City Hotel for its designation as an AAA Four Diamond Hotel and was honored as the "First Lady of the Garden City Hotel."
In New York City, Susan Lucci's wax figure is prominently displayed at Madame Tussaud's Wax Museum, her handprint can be seen at Planet Hollywood and her caricature hangs at the famous Sardi's restaurant. Her star is on the Hollywood Walk of Fame in Los Angeles, California and she appears on a billboard at Disney's Hollywood Studios in Orlando, Florida. The gown she wore on the cover of "People" after her 1999 Emmy victory as Lead Actress resides at the Smithsonian's National Museum of American History in Washington, DC.
Susan Lucci's autobiography, "All My Life: A Memoir," was acquired by HarperCollins and was released on March 29, 2011. It appeared on the New York Times Bestseller list. A paperback edition is now available in stores and includes a new, exclusive chapter about the final season of "All My Children."
Considered a "Pilates legend" in the fitness world, Susan has been practicing Pilates for more than 30 years. Her motivation is to look as young as she feels. She states, "70 is the new 40," and she certainly proves that statement with her age-defying shape. Lucci discovered the Pilates Pro Chair 10 years ago, and she soon became its spokesperson. She sells the chair on QVC along with her own line of active wear. In addition to her Pilate's workouts, she incorporates tennis lessons and cardio into her weekly routine. Her positive mindset enables her to continue reaching for new fitness goals and gives her the confidence to show off her figure on social media.
Susan states, "As women, it's easy to find the faults in ourselves. Be your own best friend: Don't compare yourself [to others], and don't be so hard on yourself."
For further information, contact
www.susanlucci.com
. To listen to the podcast, contact
https://soundcloud.com/user-498580759/susan-lucci-power-podcast
.
About P.O.W.E.R. (Professional Organization of Women of Excellence Recognized)
P.O.W.E.R is a website as well as a digital and print magazine featuring professional and famous women. Our mission is to provide a powerful network of empowering women who will mentor and inspire each other to be the best they can be. Through our valuable services, our members can collaborate with like-minded professionals, gain recognition and obtain knowledge from those who have already achieved success.