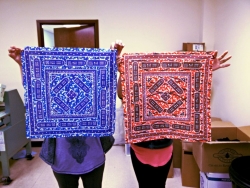 Flemington, NJ, June 18, 2018 --(
PR.com
)-- AMBRO Manufacturing ("AMBRO") through BandanasOnline.com ("BandanasOnline") has announced the "2018 Catch Your Break EPIC Bandana Design Contest." The competition aims to find the best start-up fashion entrepreneurs and designers from all over the world and give them a chance to catch their big break. This year's winner will get the opportunity to work with their designers to develop 300 of their own branded and custom designed bandanas, a value of $2,000; as well as have production samples of their winning design sent to ten of the top retail buyers in the retail fashion industry for consideration during the spring of 2019 buying season.
This inaugural event is the only contest of its kind that offers to bring a fashion designer's vision to life and gives them the opportunity to catch their big break with retail buyers. The sponsor of the event, AMBRO, operates the contest through their website
BandanasOnline.com
, a wholesale provider of bandanas and bandana design services.
Fashion and brand designers from all over the world are invited to participate.
Participants can send a single design for their custom bandana entry, each entry will be reviewed by AMBRO's internal design team and finalists will be posted for voting by the public on the BandanasOnline.com website.
Darren Amato, President of AMBRO, a leading provider of custom printing services based in New Jersey, spoke about the contest, "There are so many talented and inspired fashion designers that just need a break, so we launched this contest to offer that opportunity. Being in the retail fashion business for 30 years, we've worked with some of the top brands in the world. Now we are bringing those resources to start-up designers who need a little help getting their idea off the ground. The winner will be proud to know that their design was printed with environmentally friendly, water-based inks and done so in our solar-powered facility in New Jersey."
"The BandanasOnline design team and its resources will be made available to the winner of the contest as we guide them through the process from start to finish, of creating and distributing a fashion bandana," Darren said.
The deadline for entry is August 1, 2018 and the admission is free. In addition to the prize for the top finisher, the second and third place finishers will receive a free custom designed T-Shirt, Hoodie or Sweat Pant with their design printed on the item.
For a full list of eligibility requirements and criteria for contest entry, go to the BandanasOnline.com website and click on the contest entry link.
Contact info:
Name: Darren Amato
Organization: AMBRO Manufacturing
Address: 6 Kings Court, Flemington, NJ 08822
Web: www.BandanasOnline.com
Phone: +1-908-806-8337