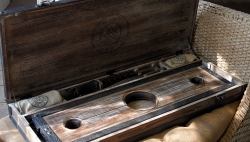 Berlin, Germany, June 19, 2018 --(
PR.com
)-- Lodbrock Ltd. announced today that it has shipped the first 1000 units of the exclusive Schlossmeister BDSM product line to distribution centers in the United States and Germany. A further distribution center in Japan is already being established.
The flagship product of the new Schlossmeister BDSM collection is the kinky BDSM Pillory Set. The set includes a handmade wooden pillory, flogger, paddle, blindfold and all the chains people will need to start playing immediately. The set of 28 components is encased in a lavish wooden antique-stain case.
Lodbrock commences with an introductory offer to its North American customers for the first 300 units sold at the special price of US$399 (not including sales tax, where applicable), resulting in a saving of US$120 per unit. Customers in Europe will get the same introductory offer for the first 300 units sold saving €100 on each unit.
This follows 12 months of creative designing and production. The design and development team is comprised of experts in craftsmanship from Germany, Japan and the British Isles.
Lodbrock's initial handcrafted collection is of Germanic bondage equipment designed and styled after the Central European Middle Ages. Further lines are already being planned, including a futuristic Kubrick Voyager Line and a decadent Victorian Collection. "It's like Westworld but kinkier and set in an old snow- covered German castle," said Paul Druce, Head of Media Production at Lodbrock Ltd. "The chains are cold but you can feel the fires burning."
"It is less of a market shift and more of a market growth," says Mr Egenlauf, Head of Design at Lodbrock Ltd. "We are seeing a cultural and social shift around the world in attitudes towards BDSM. In the existing consumer base, there is a growing demand for handcrafted, high quality equipment that doesn't cost an arm and a leg. Folks are tired of overpaying for disappointing products. We are changing that. Kinky play was always there, but bondage and BDSM play around the world is emerging from the dark dungeons into people's living rooms and bedrooms. We are rolling out something new here, custom made BDSM quality products at affordable prices. We are taking it beyond, the first collection has been fantastically designed with the emphasis upon natural and safe materials, fine woods, genuine prime leathers and strong metals casted in-house. German design and quality control runs through every part of our collection."
Lodbrock Ltd.'s management anticipates strong demand in South Korea, China and Singapore by the end of 2018.
Lodbrock Ltd. is defining a strong position that places handcrafting before machine production and establishing unique and strongly branded collections for the new global market for sexual fantasy play.
www.lodbrock.com/blog/detail/sCategory/9/blogArticle/10