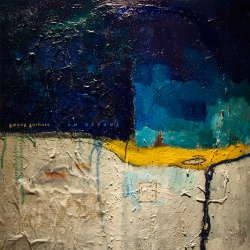 Seattle, WA, June 18, 2018 --(
PR.com
)-- The recent vinyl release by Among Authors puts the Seattle art rock band in a league of their own. The Pacific North West, known for it's over the top use of distortion and fuzz pedals, has been longing for music that prioritizes focused song composure over teen angst attitude. From the start of the first track "Lapse" it's obvious Among Authors is sewn from a new cloth.
Recorded over a 4-year span in the band's basement, the album "I Am Become" follows the story of a troubled astronaut adrift in an endless loop. Each song flows beautifully into the next, evoking emotions of loss, anxiety, and self-discovery.
A deep-dive into the band's history goes some way to explaining the poignant lyrics. At the age of 23, vocalist Ian Ketterer faced a life and death experience in the form of open-heart surgery. Fortunately for him, and us, he survived to tell the tale. While the lyrics are not directly related to any one event, the influence is obvious. With a new lease on life, Ian made the decision to push his music career with full force. He relocated from Wisconsin to Seattle, Washington, meeting up with former high-school classmate Jon Livingston. Ian's brother Jason, moved to Seattle a few years later and the three eventually birthed Among Authors. Over the years there have been a rotation of musicians lending their talents to recordings and live performances. Most notably, the song "The Overture" features Violinist Andrew Joslyn who can be heard on many of Macklemore's best hits. Current drummer Patrick Brockwell is a recent addition and a damn good one at that. With no time for pleasantries, Brockwell joined Among Authors for their West Coast tour in February and March of 2018 and has been with the group ever since.
Among Authors isn't just a small group of musicians hoping to get their music heard. They are full-on work horses with their hand in every facet of the profession. In addition to the entire album being self-written, produced, engineered, mixed, and mastered, they animated and edited a full music video for the single "Imitation House" out of photoshopped drawings, they do their own booking and marketing, and control every aspect of their online presence which includes the processing of all orders through the band's website. Their work ethic is second to none in the Seattle Music scene and it's great starting to see these guys are finally getting the recognition they deserve.
The album, although originally released on April 6th, 2017, is now available on limited edition 180-gram Blue Transparent Vinyl. Go to
amongauthors.com
to get yours!
After the release of "I Am Become" and their latest tour, Among Authors is back in the studio working on their sophomore album.