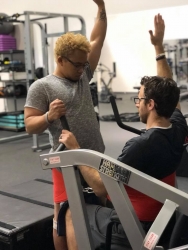 Phoenix, AZ, June 20, 2018 --(
PR.com
)-- The Project Walk Phoenix location was recently opened and is being operated by Joye Langley and Drew Langley. This mother-daughter duo decided to be part of the solution after Joye's husband, Andrew (Drew's father) sustained a very high C-2 level spinal cord injury in April of 2008 due to a complication with stenosis.
In 2009, Andrew was fortunate to begin his experience with Project Walk's specialized therapy in California. This therapy has improved many functionalities for Andrew and Joye believes has not only extended his life with having such a high level injury, but has also improved his quality of life in many ways.
"Everything had to be done for him after his paralysis, including scratching an itch on his face," said Drew, as she remembers her teenage years growing up with a Marine dad who once stood so tall. Drew was impressed with how the specialists at Project Walk worked with the clients, getting them out of their chairs, motivating and encouraging them. She knew in those early years she wanted to go to college for this purpose and work in a Project Walk facility somewhere.
"Her dad and I are so proud of all she has accomplished to get to this place in her life. She understands the opportunity she has been given and she passionately works hard every day to help as many people as possible have the best chance of recovery," says Joye with pride.
She adds that she always wanted to be a bigger part of helping people get into this unique therapy and opening Project Walk Phoenix has been one of the more rewarding experiences of her life. It is her dream to make it possible for any person who suffers with paralysis or mobility issues to have the chance to go to Project Walk.
"Even with all that a person confined to a wheelchair faces, our clients are the most remarkable people I have ever met," says Drew. "I'm supposed to be encouraging them, and they end up inspiring me on a daily basis."
About Project Walk Phoenix:
Project Walk is the pioneer in intensive activity-based recovery with nearly two decades of helping people. Those recovering in this therapy can expect to find the most effective techniques and methodology in the world of neurological recovery. Project Walk serves those with spinal cord injury, ALS, stroke, transverse myelitis, traumatic brain injury, amputation, cerebral palsy, multiple sclerosis, and parkinson's. Clients perform specific exercises while out of their wheelchairs, focusing on what they cannot do instead of only what they are left able to do since their diagnosis. This recovery program is the only one of its kind that uses a distinct proven method of specific exercises to re-enlist neurological (purposeful) movement, to reorganize the central nervous system and retrain brain pathways.
Project Walk Phoenix is located in the Ahwatukee area of Phoenix off I-10 and Ray Road at 14647 S. 50th Street, Suite 181, Phoenix, AZ 85044. Hours of operation are 9 AM to 6 PM, Monday through Friday. There are many packages for clients to choose from as well as a "Visitors" program for out of town clients.
For more information about Project Walk Phoenix, visit www.projectwalkphx.com
Facebook: www.facebook.com/ProjectWalkPhoenix
Media Contact:
Joye Langley
602-562-9010
joyeprojectwalkphx@gmail.com