Chic24x7 Offers Thai Silver Jewelry with Exotic Gems
Thailand jewelry provider, Chic24x7 offers a large collection of silver gemstone jewelry. Retail and wholesale orders are accepted and volume orders, can be manufactured as per design and gemstone specifications provided by the client.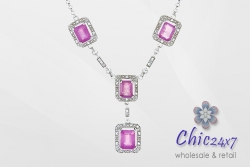 Bangkok, Thailand, June 22, 2018 --(
PR.com
)-- Leveraging on more than two decades of expertise in every aspect of natural gemstones and jewelry, Chic24x7 now showcases its collection online. By encrusting some of the most sought after exotic gems in sterling silver, the jewelry exudes that feeling of luxury without costing a fortune.
Unlike most Thai sterling silver jewelry providers who prefer to work with synthetic gemstones when it comes to silver jewelry, Chic24x7 features gemstones like ruby, sapphire and emerald for its collections.
Both wholesale and retail purchases can be made online, prices quoted are for retail orders and wholesale jewelry prices are discussed and negotiated for each order. Volume orders can be fulfilled based on design and gemstone specifications requested by the client.
The entire Chic24x7 silver jewelry collection is designed and crafted to ensure that the jewels will perfectly suit both formal and informal wear. The modern day jewel savvy woman has come to appreciate jewelry for its look and quality. Many of the rings showcased in the online collection would be perfect for a sterling silver wedding or engagement ring.
Color is an essential element of jewelry; natural gemstones offer the perfect way to portray color. The variety of gemstones featured in the Chic24x7 jewelry collection, include some hard to find gems. From the rare Siberian chrome diopside to the royal look of rubies and sapphires, there is a gemstone to please even the most seasoned style guru.
925 silver jewelry offers an affordable way to build a jewelry collection, having said that quality is of prime importance. Few jewelry lovers would be proud to wear a synthetic factory made gemstone. Picking jewelry from the Chic24x7 online store offers a stress-free way to buy jewelry, the collection is restricted to natural gemstones.
The website at
www.chic24x7.com
hosts the online shopping store and also contains, useful and interesting information related to gemstones and jewelry.
Contact
Chic24x7
Mr. Akshat Khandelwal
+662 2381246
www.chic24x7.com
Email preferred in cases of different time zones. Chic24x7 is located in Bangkok, Thailand.

Contact