Louisville Powerlifting Team Headed to USPA World Powerlifting Championship
Louisville, KY training facility Everyday Athletes will be sending 8 athletes to the world championships of powerlifting in Las Vegas November 8-11. This will be the first time this many athletes from one facility will compete at a world level competition.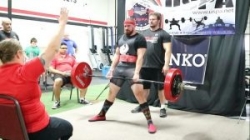 Louisville, KY, June 25, 2018 --(
PR.com
)-- Everyday Athletes powerlifting team is excited to have qualified 8 powerlifting team members to the USPA World Drug Tested Championships. Sending this many athletes to the world level of competition is far from normal expectations. When speaking with the head powerlifting coach he was able to break down what made it possible
Chance Cianciola MS CSCS USPA head powerlifting coach noted, "getting in the consistent training and scheduling needed for a team of this size is no small feat. Life and the demands of it often win out when trying to reach this level of competition. I am proud to work with so many dedicated and talented lifters that where able to make it this far. Seeing how each and every athlete dedicates them selves to reaching the elite level of competition inspires me to drive the team even further."
When asked for his expectations at the championship he mentioned, "I see 2-3 of our members taking home first place and several other medaling. This is looking to be a great year for our team."
The team will head to compete in Las Vegas, NV November 8-11.
For more information contact:
Brad Longazel
blongazel@everydayafs.com
Everyday Athletes Personal Training
2001 Production Dr. Unit 6
Louisville, KY 40299
502-275-0543
Everyday Athletes - www.everydayafs.com
Contact
Everyday Athletes
Brad Longazel
502-275-0543
www.everydayafs.com

Contact