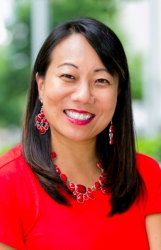 Raleigh, NC, June 27, 2018 --(
PR.com
)-- Goalfriends – GF Global, LLC Names Chang Chief Operating Officer
Goalfriends – GF Global, LLC announced the addition of Jeanie Chang, LMFT, CCTP as Chief Operating Officer. According to CEO and Founder Darlene Whitehurst, this new position is charged with strategically scaling the GoalFriends organization in pursuit of its goals of launching groups in all 50 states and 196 countries around the world.
Whitehurst, also the founder of Goalosophy and Adsource Media states, "Jeanie is perfect for this position. As a former broadcast journalist, she understands the mission of GoalFriends, to expand our reach, connect, and empower women globally while creating the world's largest confidence movement." Whitehurst continues, "Strategically Jeanie understands the delicate balance of growing a global company, while maintaining the voice of the brand. As a licensed therapist, Jeanie embraces the need for a platform that fosters a community of personal development, mentoring, and supporting women to become the best versions of themselves."
Chang shares, "I became a GoalFriend because I was so inspired by the authentic sharing among these women. The program is fun, easy, and engaging. In just a few months, I witnessed phenomenal personal growth. GoalFriends is like a mini-mastermind, personally and professionally. Having grown up with a neurologist as a father, I learned that our brains need social connectivity to survive because connection gives meaning and purpose to our lives. GoalFriends provides purposeful conversations and powerful connections addressing social isolation which has become an epidemic. Chang continues, "At the beginning of my career, my goal was to be the number one television anchorwoman in the world. It is both humbling and thrilling to be in this role at GoalFriends as its number one brand ambassador in the world!"
Chang has a diverse career background, beginning her career as a broadcast journalist in Washington, DC, having also worked in public relations, marketing, and client success in the corporate sector. She also followed a calling to get her license in marriage and family therapy and has treated patients in an integrated care model.
Headquartered in Raleigh, NC with groups in 25 states and numerous countries around the world, GoalFriends is a monthly, step-by-step program that uses inspiration, goal setting, personal development, and group discussions to help women dream big and make their goals a reality.
For more information, please visit www.goalfriends.com.
Contact: Jeanie Chang
jeanie.chang@goalfriends.com
www.goalfriends.com/