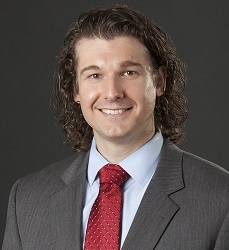 Columbus, OH, June 26, 2018 --(
PR.com
)-- OrthoNeuro announced today that Dr. Paul Eichenseer would join their multi-specialty physician group practice August 1st, 2018.
Dr. Eichenseer is a fellowship-trained orthopedic spine surgeon who specializes in adult deformity and scoliosis utilizing the latest open and minimally invasive techniques. Dr. Eichenseer has advanced training in adult spinal deformity, scoliosis, kyphosis, revision spinal surgery, complex spinal reconstruction, minimally invasive decompression and fusion, and treatment of spinal fractures.
He is a graduate of the Ohio University Heritage College of Osteopathic Medicine in Athens, Ohio. Dr. Eichenseer completed his orthopedic surgery residency at Affinity Medical Center in Massillon, Ohio. Following residency, Dr. Eichenseer completed an orthopedic fellowship in Complex Spine Surgery from the University of California, San Francisco.
"I believe each patient needs to be evaluated carefully and on an individual basis, to tailor a patient-specific treatment plan, whether it be a major reconstruction for spinal deformity, minimally invasive discectomy, or non-operative treatment protocol," said Dr. Eichenseer. "I chose OrthoNeuro because of the tradition of excellence and the ability to provide the highest quality of spine care available in central Ohio."
Dr. Eichenseer is now accepting new patients. He will be treating patients at the OrthoNeuro Downtown Columbus location starting August 1st. To schedule an appointment, please contact OrthoNeuro at 614-890-6555 or visit the OrthoNeuro website at www.orthoneuro.com.
OrthoNeuro
OrthoNeuro is a multidisciplinary center of board-certified physicians specializing in orthopedic surgery, neurology, spine surgery, podiatry, and physical medicine and rehabilitation. With offices in Westerville, New Albany, Downtown, East Columbus, Dublin, and Pickerington with a new location in Grove City opening late Fall. OrthoNeuro is committed to providing patients throughout Greater Central Ohio with convenient access to an exceptional patient care experience.