California 10 Year Old Gymnast Qualifies for Prestigious USA Elite Gymnastics Competition
10 year old Carsyn Coleman is one of the youngest competitors at the Hopes Classic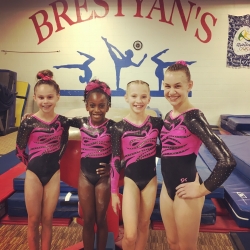 Anaheim, CA, June 28, 2018 --(
PR.com
)-- Carsyn Coleman, a 10 year old standout gymnast, has qualified to compete at USA Gymnastics' Hopes Classic. Carsyn is one of only 28 gymnasts nationally in her age group to qualify for this prestigious meet. The Hopes Classic competition is often used for spotting talent for the U.S. Women's Gymnastics team and is an important step toward becoming an elite level gymnast. Two-time Olympian Alexandra Raisman made her debut at the Hopes Classic.
By earning a spot at the Hopes Classic, Carsyn is one step closer to achieving her goals of one day competing for Team USA at the Olympic Games. But for now she's taking it one day at a time. Carsyn trains under Trent and Jill Spaulding at Precision Gymnastics in Rancho Cucamonga. She currently spends seven to eight hours a day, five days a week in the gym. Carsyn is known for her high-powered, dynamic routines, while maintaining precise technique.
"My long-term goals are to become a USA elite gymnast, make the U.S. National Team, compete at a Divison I school, and represent Team USA at the 2024 and 2028 Olympic Games," said Carsyn Coleman. "I feel so blessed to be able to compete at the Hopes Classic, representing Precision Gymnastics and my hometown."
"Carsyn is the complete package when it comes to a top-level gymnast," said Jill Spaulding, coach and co-owner at Precision Gymnastics. "She is muscular, yet lean and has an incredible determination to learn new skills and perfect the ones she knows."
Carsyn has already built a strong fan base and social media following. She has nearly 11,000 Instagram followers, and videos of her routines have received more than one million views. She is the 2017 and 2018 California state champion on both floor and beam.
The Hopes Classic will take place in Salt Lake City, Utah on July 6. Carsyn will compete on all four events, including the uneven bars, floor, balance beam, and vault. For more information about the competition, visit USA Gymnastics www.usagym.org
For more information on Carsyn, visit
https://www.instagram.com/carsyn_jai_gymnast/
and https://www.chalkwarrior.com/carsynjaicoleman
Contact
Avere Marketing
Amy Stein
714-361-5200
https://www.avereglobal.com

Contact