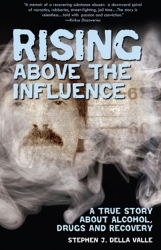 Oak Ridge, NJ, March 20, 2008 --(
PR.com
)-- Drug and alcohol rehab centers are the new celebrity "hot spots," not for serious help with overcoming addictions but to repair a tarnished public image. Stephen Della Valle, author of the new book Rising Above the Influence and president of the board at Turning Point rehabilitation center, is disturbed by the trend. "Too many celebrities use rehab as a PR tactic," he says. "They minimize the consequences of substance abuse and make rehab look like a quick and easy process."
Mr. Della Valle is no stranger to overcoming addictions. He spent over twenty years in the grips of drugs and alcohol, losing his family, his job and his freedom along the way. He only turned his life around when he fully committed to the recovery process.
"Overcoming addiction is not glamorous," he notes. "When you see a paparazzi shot of Lindsay Lohan at the Cirque Lodge, she looks like she's spending a day at the spa. You don't see the ugly side of rehabilitation—the physical pain of withdrawal or the emotional agony of facing up to the bad things you've done."
After leaving rehab, Mr. Della Valle was faced with rebuilding his entire life. To avoid relapsing once they're out on their own, people who complete rehab programs are often advised to:
· Stay away from high-risk situations
· Avoid people and places that might influence them negatively
· Reduce stress
· Pursue healthy activities such as exercising or a hobby
· Attend a twelve-step recovery meeting every day
Because of the many high-profile people who have entered rehabilitation for drugs or alcohol, it's become more socially acceptable to admit that you have a problem and seek help for it. Della Valle, however, worries that it's gone too far. "There is nothing cool or admirable about being an addict, no matter how much the media tries to make it look that way," he says.
Stephen Della Valle is president of the board of directors at Turning Point rehabilitation center in Verona, New Jersey. Currently celebrating twenty years of sobriety, he lives in Oak Ridge, New Jersey, with his wife, Donna. He has three children.
Rising Above the Influence is available now (ISBN: 0-9801776-0-X; softcover; Oak Ridge Press) on Amazon.com, Borders.com, BarnesandNoble.com, and at fine bookstores everywhere.
###