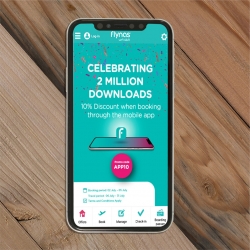 Riyadh, Saudi Arabia, July 06, 2018 --(
PR.com
)-- flynas, the national Saudi carrier and leading low-cost airline in the Middle East, announced that its mobile application reached a milestone of more than 2 million users since its launch.
flynas, the winner of the Middle East's Leading Low-Cost Airline award in 2018, noted that Saudi Arabia has the largest proportion of "flynas" app users, as well as a significant number of users from different countries across the globe. Additionally, flynas points out that the application is most widely used by young people.
In this regard, Mr. Mousa Bahri, Vice President of Corporate Communications and Marketing, stressed that "flynas" attaches great importance to the digital aspect and seeks to meet its passengers' travel needs by developing a distinct booking processes through the flynas application, and securing all the services required by its passengers. Mr. Bahri pointed out that "flynas" has offered a special discount of 10 percent on domestic flights in light of reaching this milestone.
Mr. Bahri expressed his thanks and appreciation to flynas passengers, pledging to further develop the application to suit their evolving travel needs. He noted that flynas aspires to develop its application to be the most attractive interface for users and the most flexible platform to provide a distinctive travel service, highlighting the incentives adopted by flynas for the application users, including special offers and discounts for those who book tickets through its mobile application.
About flynas:
Established in 2007, flynas is the national Saudi Carrier and the leading low-cost airline in the Middle East with a fleet of 30 Airbus A320 Aircraft, operating over 1,100 flights weekly to 17 domestic destinations and 53 international destinations. Since its launch, flynas has successfully carried more than 38 million passengers from its bases of Riyadh, Jeddah, Dammam and Abha.
flynas' high value offerings, on-time performance and superior customer service earned flynas the award for Middle East's Leading Low-Cost Airline from World Travel Awards 2015, 2016, 2017, and 2018, as well as the prestigious Skytrax Award for Middle East's Best Low-Cost Airline in 2017.
For more information, visit
www.flynas.com