Seattle-Based One Gun Shy Announces Album Release and Pacific Northwest Tour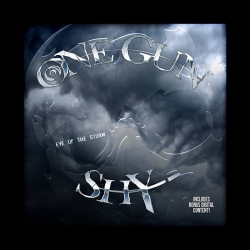 Seattle, WA, July 16, 2018 --(
PR.com
)-- Alternative Hard Rock Band, One Gun Shy will tour the Pacific Northwest in support of their third album "Eye of the Storm" (Released July 6, 2018). The Seattle-based band will spend the summer promoting the album by kicking off the first leg of their tour with shows and in-store appearances in Oregon, Washington and Idaho.
An extraordinary collaborative effort between Momma Lynn Records and Lime & Dime Records, resulted in the July 6, 2018 release of the new One Gun Shy album, "Eye of the Storm."
"This album would not be possible if it were not for the hard work of so many people. Every aspect of this album, besides the physical and digital distribution, is a result of work performed by people living and working in the Great Pacific Northwest," said Michael Decker, Founder/CEO of Momma Lynn Records. "There is tremendous Music Industry Infrastructure in this area of the country with an abundance of talented Stylists, Graphics Designers, Branding Experts, Engineers, Producers and "A" Level recording studios like Studio Sage and Robert Lang Studios," said Decker.
A region of the country that gave birth to Grunge Music of the late 80's and 90's, is now a much more musically diverse scene. One Gun Shy is part of that musical resurgence contributing their Alternative Hard Rock sound. One Gun Shy has been featured in several radio shows, music blogs and magazines. An article written by Philip Sayblack for MUEN Magazine, compares the band to Three Days Grace and Shinedown. Sayblack goes on to write that "The album's songs will appeal to any 90's and 2000's rock fan with its driving riffs and bombastic solos."
An increased fan base and several successful tours proved that the fans enjoyed what they had created. With the release of their third album, the band is currently streaming music videos for the title track "Eye of the Storm," and the new single "Constellation" on their website at: www.onegunshy.com.
One Gun Shy are seasoned, professional musicians with over 100 years of combined musical experience. The band uses professional gear, records in professional studios, and produces music to exacting standards. The members come from varied and unique backgrounds, but share a common goal and vision for music. Founding member, Chris "Wombat" Womble said, "We work hard, take our music seriously, connect with the fans, but remember to enjoy what we are doing and still have fun."
Contact One Gun Shy: www.onegunshy.com, artistcontact@mommalynn.com and all major social media platforms.
Contact
Momma Lynn LLC
Michael L. Decker
(866) 699-2515
www.mommalynn.com
mldecker@mommalynn.com

Contact