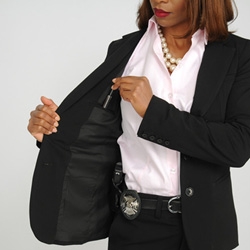 Nashville, TN, July 18, 2018 --(
PR.com
)-- OnPoint Manufacturing, Inc., an innovative leader in on-demand apparel manufacturing today, announced a partnership with Ten-Four Clothing to produce their women's clothing line.
Through this cooperative effort, Ten-Four Clothing is working closely with OnPoint Manufacturing (OPM) to provide on-demand, high-end business wear to women who serve in law enforcement, the military, or any women who carry a concealed weapon. The goal is to provide fashion-forward and functional attire by utilizing high quality, durable fabrics and sleek designs.
The partnership between Ten-Four Clothing and OnPoint Manufacturing is the perfect blend of what the future holds for customized apparel manufacturing.
"We are thrilled to be working with Ten-Four Clothing to manufacture their business wear for women. We are dedicated to building a lasting relationship with Ten-Four Clothing by delivering personalized service and a top-quality product," says J. Kirby Best, Chairman, OnPoint Manufacturing.
"Strategic partnerships are critical for the growth of Ten-Four Clothing. OnPoint Manufacturing is the perfect partner not only because they are a domestic manufacturer; but OnPoint is an innovative company that is customer-focused and those are two non-negotiable standards for Ten-Four," says Alisha Shoates James, Owner, Ten-Four Clothing.
About OnPoint Manufacturing, Inc.
OnPoint Manufacturing, Inc., specializes in Purchase Activated On-Demand Mass Customization of apparel. OnPoint has developed technically advanced manufacturing and distribution solutions for the apparel industry. Our factory model automates and integrates almost every aspect of the manufacturing process from order entry to delivery. The integrated components that are driven by complex software allow OnPoint to manufacture millions of unique SKU's on-demand reducing inventory costs and streamlining the whole supply chain. Founded by CEO J. Kirby Best, OnPoint maintains a manufacturing facility in Florence, Alabama, with headquarters in Nashville, Tennessee.
Media requests may be directed to OnPoint Manufacturing, Inc. Director of Marketing Christopher Taylor at 615-900-9022 or via email at Chris@onpointmanufacturing.com.
Contacts
J. Kirby Best, (615) 330-2407
Chairman
Kirby@onpointmanufacturing.com
Christopher Taylor, (615) 900-9022
Director of Marketing
chris@onpointmanufacturing.com
Alisha Shoates James
Ten-Four Clothing | CEO
615-353-0058
tenfourclothing@gmail.com
www.tenfourclothing.com