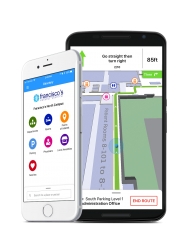 New York, NY, July 18, 2018 --(
PR.com
)-- Rush University Medical Center in Chicago announced today that is has selected Connexient's MediNav solution for Digital Wayfinding and Indoor Navigation.
www.connexient.com/
"By integrating MediNav's robust and comprehensive indoor navigation and location services with our My Rush mobile app, we can make it easier for our patients, students and visitors to find their way to appointments and various locations," said Dr. Shafiq Rab, Rush's CIO. "Rush is committed to patient-centric healthcare, which starts with delivering an outstanding patient experience."
Rush University Medical Center, just west of Chicago's downtown, is part of the Rush System, which also includes Rush University, Rush Copley Medical Center (Aurora, IL) and Rush Oak Park Hospital (Oak Park, IL), as well as numerous outpatient care facilities. Rush University is a health sciences university that comprises Rush Medical College, the College of Nursing, the College of Health Sciences and the Graduate College, with more than 2,500 students.
The deployment of the new Wayfinding application by MediNav will start at Rush's outpatient facilities, including the new Rush South Loop center that will open later this year, Rush Oak Park Hospital's Medical Office Building, and the Professional Building on the Chicago campus adjacent to the Medical Center. Plans are to deploy the new technology system-wide.
Rush is integrating MediNav with its "My Rush" official mobile app. This will integrate the patient appointment and health information app, Epic MyChart with MediNav's indoor navigation and location services to ensure patients get to their appointments on-time.
"We are delighted to work with Dr. Rab and his team at Rush," commented Mark Green, Connexient Co-Founder & CEO. "Rush's innovative mindset and vision for how technology can improve the overall patient experience will make this one of our most exciting deployments yet."