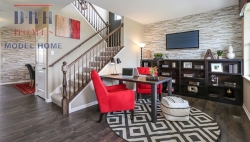 Chicago, IL, July 18, 2018 --(
PR.com
)-- Ebonie Caldwell Realty Portfolio, one of Chicago's leading luxury residential real estate boutique firms, is pleased to announce the partnership of working with D.R Horton Homes of North Aurora, Illinois. The goal for this exciting partnership is to sell their remaining affordable luxury homes located in the Windstone Place community of North Aurora Illinois.
Ebonie Caldwell, Managing Broker and President of Ebonie Caldwell Realty Portfolio brings a wealth of knowledge and experience to this partnership. Her professionalism is impeccable and her Real Estate acumen is unmatched. Presently there are six move-in ready homes in Winstone Place Community. The price tag for these luxurious homes start at $298,000.00.
"D.R Homes is committed to bringing home ownership within reach for many residents in Illinois by providing moderately priced, quality-built homes. They have experienced continued success as America's largest home builder by volume and leading builder for over 40 years. Their years of experience and philosophy of creating value by demonstrating their leadership in residential development communities through design innovation, superior craftsmanship, and responsiveness to the needs of their buyers; has given me the comfort level to introduce this community and company to the world of affordable luxury," says, Ebonie Caldwell.
To learn more about the homes of Windstone Place in North Aurora, Illinois, please visit
www.LuxurySuburbanHomes.Properties
or contact Ebonie Caldwell Realty Portfolio at 312-999-0Lux / 312-999-0589 to gain access to buyers incentives and to schedule a tour of these beautiful properties.