Visibly Connected Announces Moving to a Bigger Location in the Lake Houston Area Community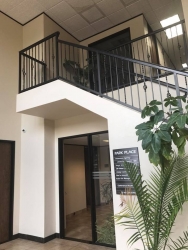 Humble, TX, October 11, 2018 --(
PR.com
)-- Visibly Connected is pleased to announce that their office has relocated to 302 North Houston Avenue #200, Humble, TX 77338.
"Although we loved the office we were in, growth had been on the horizon for a while and we knew to accommodate our staff and business, we needed a bigger space," stated owner David Cherry.
VC started out of the house over eight years ago. Year three, they moved into a shared space where they were able to hire employees, meet with clients and have a professional atmosphere. This space allowed them to hire a full time marketing position, a sales person, as well as, social media writers. Visibly Connected also began building relationships by networking in their community through local chambers and associations.
As a member of the Lake Houston Area Chamber of Commerce, they have been able to serve as an ambassador for 8 years, volunteer and be active on a weekly basis. In addition, they are also members of the GHBA, NAHB and Texas Association of Builders.
The staff at Visibly Connected strives to go above and beyond for their current and future digital marketing clients. With their Web Designer, SEO specialist and Social Media/Content Writer, they feel their team can bring you the latest and greatest in digital marketing. Combined they offer over 40 years of knowledge and expertise in this ever populating industry.
2017 brought them their best year yet which lead to the excitement and forethought of moving into a larger office. As Gandhi stated, "The future depends on what we do in the present." Owner Page Cherry remarks, "It's not always easy making a change or leaving the office you started in. However, making room for additional employees and continuing to bring the entire Digital Marketing process to current and future clients, means...here we are!" They will continue to be active and give back in their community, as they did not move far.
For more information, please contact Page Cherry at 281-744-9410, email pagecherry@visiblyconnected.com or visit Visibly Connected website at
www.visiblyconnected.com
.
Contact
Visibly Connected
Page Cherry
281-940-7463
visiblyconnected.com

Contact