International Maritime Vocal Group Entertains at Bristol Renaissance Faire
Internationally performing vocal group Bounding Main to entertain at the Bristol Renaissance Faire on July 28-29.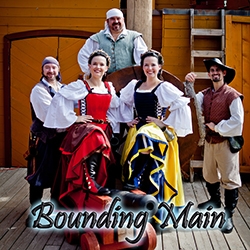 Kenosha, WI, July 24, 2018 --(
PR.com
)-- The internationally performing maritime-themed vocal group Bounding Main will be performing five shows daily at the Bristol Renaissance Faire in Kenosha, Wisconsin on Saturday July 28 and Sunday July 29.
Bounding Main celebrates performing together for fifteen years by returning to the Bristol Renaissance Faire, one of its first venues. Since its founding in 2003, Bounding Main has performed in concert in the United States, Quebec, Canada, England, France, the Netherlands, Germany and Poland.
The group has released five CDs, collections of maritime-themed music arranged for a contemporary audience. Taking the songs from the age of tall ships that explore the struggles, lives and loves of the men and women of the sea, Bounding Main entertains with fresh renditions that both maritime aficionados and families alike have come to love.
"Every member of Bounding Main worked at the Bristol Renaissance Faire before we came together as a group," said music director Jonathan Krivitzky. "We are always delighted to come back to the amazing venue where we all first met." The Faire boasts a beautiful 30-acre site with open-air stages featuring a large number of stage acts and musicians. All entertainment is included in the price of admission.
"Also, we will return for our third and final weekend of the 2018 season on August 25-26," said Christie Dalby, Bounding Main member. "Next year we'll be involved in the return of the tall ships to the Great Lakes and perhaps another European tour."
For more information about Bounding Main:
Dean Calin
http://www.boundingmain.com
ahoy@boundingmain.com
Phone: 262-366-8591
For more information about the Bristol Renaissance Faire:
Julie McMillin
http://renfair.com/bristol/
bristolfriends@renfair.com
Phone: 847-395-7773
Contact
Bounding Main
Dean Calin
262-366-8591
www.boundingmain.com

Contact