ICanLocalize Offers Free Professional Translation to Active Websites
As part of an introductory campaign, ICanLocalize offers owners of websites that have a fair number of daily visitors free translation for their website.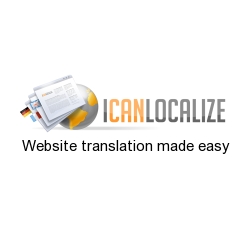 Las Vegas, NV, March 12, 2008 --(
PR.com
)-- ICanLocalize, a self-managed website translation service, is offering free professional translation to active websites. ICanLocalize's translation service is tailored for small and medium websites, which typically sell products or services over the web. During the release month, until April 15, they're giving away free translation, done by professional translators.
Having a website in several languages is a great asset for web based businesses. It helps connect with people from different countries who speak different languages. Multi-lingual websites also receive higher search engine traffic, resulting from more pages and higher search engine positioning.
ICanLocalize provides a unique self-managed translation service. Using their approach, website owners manage their translation without going through a translation agency or dealing directly with independent translators. This service model is perfectly suited for the needs of small and medium businesses allowing to cut down translation costs and maintain greater control over their websites.
According to Amir Helzer, founder of ICanLocalize, their goal is to make professional translation accessible to websites for which current solutions are either too time-consuming or too expensive.
While automated machine translation lets visitors, who don't speak your language, understand your message, it's not acceptable as your official content. On the other hand, translation agencies, set to work on large corporate websites impose high entry barriers.
"We've tailored this system around the needs of small businesses," says Amir. "No job is too small for us. Since the clients manage their translation project, there's no operational overhead and payment is made just for the translation. This saving goes right back to the client."
Their introductory offer is valid for active websites that have a fair number of daily visitors. To take advantage of this offer, visit:
http://www.icanlocalize.com/docs/free_promo/
ICanLocalize's translation system runs on their web server and uses a PC client program. The client program runs on Windows XP or Vista. For complete information on their translation system, visit:
www.icanlocalize.com
###
Contact
OnTheGoSystems,INC.
Amir Helzer
+1-(310)-9286744
www.icanlocalize.com

Contact