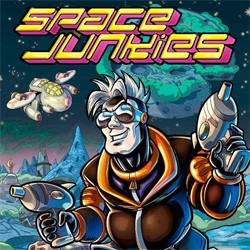 San Diego, CA, July 31, 2018 --(
PR.com
)-- Space Junkies (SJ) comics is a bold and purposeful experiment to bring out adventure stories in the celestial space to enthrall the youth and propel their minds towards imaginative and innovative thinking. In fact, SJ comic book Hotels on The Moon series gives readers an expansive, immersive perspective of the universe and its people while allowing the art team to carry the majority of the storytelling. Featuring art, the title on the web-platform tells the story of a host of characters against vicious villains and barbaric beasts in pursuit of adventure.
SJ comic books was conceptualized in 2014 by its creative wizard Sharan Kumar for youth upliftment and development. Recently SJ has been accredited as a trusted comic book by comiXology, a unit of Amazon and has also won competitions conducted by Comic Con India. SJ comics are available in print, digital, and animation formats.
Over the years SJ has taken many steps to expand and grow its reach and penetration for training the young in art forms for making comic books, manga, and animation in an environment. Through these efforts SJ is working towards making a societal change by providing a platform and recognition to local content creators, illustrators, artists, writers, inkers, pencilers, and colorists to work together in the promotion and development of comics, animation films, cartoons, and games in formats like videos, virtual reality and other channels. SJ is committed to providing the youth opportunities in comic book creation by igniting their creativity.
Two formidable challenges a comic book startup like SJ is dealing with for expansion and optimizing its operations. First challenge is in the area of finding funding support for its programs and operations on a continuing basis. Second challenge is in shaping its monetizing model for selling its books and related services. There are no established forums available to deliberate these matters concerning production and distribution of comic books. Clearly SJ will continue to explore the most appropriate model for an entrepreneur to publish and distribute comic book in the country and beyond.
SJ believes in staying focused on their commitment to enthrall youth with its comic stories, programs and creations until it is proven and stable, and the characters are fully developed and identifiable. SJ's goal is to lure new comic readers, increase reading frequency, and introduce existing readers to other genres, and it's working. Once this is accomplished, the next step seems to be in games, animation film and comics for everyone. Maybe that would be an interesting development to watch out in this space!
Check out the website at
www.spacejunkies.com/
to read the comics.