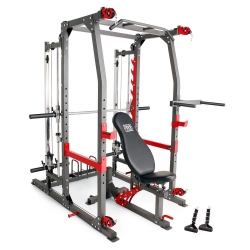 Pomona, CA, July 31, 2018 --(
PR.com
)-- Marcy announces today the release of their latest fitness machine offering, the
Smith Cage Home Gym Training System SM-4903
. The 3-in-1 total body training system is a premier home fitness solution, offering a variety of strength training options for customers.
The Smith machines are some of the brand's most popular products, and the SM-4903 is no exception. Marcy has sold this item before, and due to its reasonable price tag and comprehensive functionalities, it's sold out twice. This is the business' third time restocking this home gym system and the machine is anticipated to be well-received by customers again.
"The Smith Cage Machine's popularity has grown in both paid membership clubs and at home," said John Guilbert, Marcy's Vice President of Sales. "The greatest advantage that a Smith Cage Machine can provide versus other strength development equipment is 'improved safety.' The Smith Cage Home Gym Training System SM-4903 allows a user to maximize their weight lifting without a physical spotter needed. It also improves stability and balance. Based on the design of this product, it minimizes the change of users to fall or strain forward, which allows for controlled movement. All in all, it's a tremendous piece of strength equipment for the value of purchase."
This exercise equipment was designed as an effective way to work out at home. Featuring a multi-functional cage system with a standalone bench for a variety of strength training exercises, the equipment is best for customers looking to strengthen their upper body, lower body or work with an Olympic free weight rack. Some of the best known movements done on this elite smith cage complete gym include back squats, bench presses, deadlifts, barbell rows, and shoulder presses.
This is one of the brand's most visually striking products, with its bold red and gray aesthetic, and it's also one of Marcy's most operationally diverse machines, too. With additional features, like a pull-up bar, an anchor for added resistance for barbell training, a dual pulley system both overhead and below, the multifunctional piece of equipment was designed to promote targeted muscle growth, minimize injury potential, and increase joint longevity.
To view or order the Smith Cage Home Gym Training System SM-4903 visit www.marcypro.com. Marcy currently only ships within the contiguous United States.
About Marcy:
Marcy is a subsidiary of the fitness company, IMPEX. Since 1982, IMPEX has been a leader in the fitness industry, creating and distributing fitness products for fitness equipment companies known around the world. IMPEX is responsible for providing products to most major sporting good retailers and is known for its brands Marcy, APEX, Steelbody, HERS, Bionic Body, and Competitor. For more information about Marcy products, visit https://www.marcypro.com/about-marcy