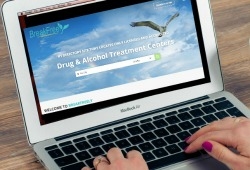 Indianapolis, IN, August 01, 2018 --(
PR.com
)--
BreakFreely.com
is the first-ever online locator service that identifies only licensed and accredited addiction treatment centers in the United States, which have been verified by an extensive vetting process. This website provides factual information for people looking for drug and alcohol addiction treatment.
Finding the appropriate addiction treatment center can be overwhelming for patients and caregivers. According to the National Institute on Drug Abuse, there are over 14,500 addiction treatment facilities in the United States. The industry is mostly unregulated, the type of treatment offered varies greatly, and people seeking treatment may not know the questions to ask to make the most informed decision. All these choices make finding the right treatment for addiction difficult and confusing.
As stated by federal organization SAMHSA (Substance Abuse and Mental Health Services Administration), the need for quality substance use disorder treatment facilities is critical. An estimated 21 million people over the age of 12, or one in 13 people in the United States, are believed to have needed treatment for a substance use disorder in 2016. Yet, only 3.8 million people received any form of substance use treatment.
BreakFreely.com was created to bring truth and clarity to the process of choosing an addiction treatment center. Although there are over 14,500 centers in the U.S., BreakFreely.com has approximately 4,800 treatment centers in its database, because it only lists licensed and accredited centers. These centers are licensed by their state and accredited by Joint Commission, CARF (Commission on Accreditation of Rehabilitation Facilities), and/or COA (Council on Accreditation). These are federally recognized accreditation organizations. BreakFreely.com allows one seeking treatment to filter on other patient preferences like type of treatment, location, gender, and forms of payment to name a few. There are no ads, no sponsors, and does not have an 800# or call center. Instead, each listing includes the direct number to the treatment facility along with the Google street view photo to show an accurate picture of the rehab center. In the resources section of BreakFreely.com there are suggested questions to ask each center to help narrow down choices. The goal is to provide as much factual and transparent information as possible for people to make their own informed decisions.
"We spent years verifying the information available on the site. We have reviewed the information provided for each center and verified the accredited services, accurate physical locations, phone numbers, and website addresses. We are committed to continually improving and validating the information we provide." - Missy Held, Co-Founder, BreakFreely
"We are building a community around help and support for addiction. We crowd source information to allow for the reporting of inaccurate facts, which we will then research and verify." - Kelly Urban, Co-Founder, BreakFreely
"I am a parent with a son in long-term recovery. I am also a facilitator for Parents of Addicted Loved Ones (PAL), a support group that is an amazing resource for families dealing with addiction. This epidemic takes a community to come together to bring about change. I would love to thank all the people who helped create BreakFreely.com. If you have a loved one in recovery who attended an accredited recovery program, encourage them to check out BreakFreely.com and confirm their information. Together we can find hope!" - Cindy Stone, Facilitator, PAL