DrFormulas Advanced Multi-Probiotic Voted Best Probiotic Supplement for IBS/IBD Relief
DrFormulas® Nexabiotic® Advanced Ranked on Reviews.com as The Best Probiotic Supplement for IBS/IBD Relief.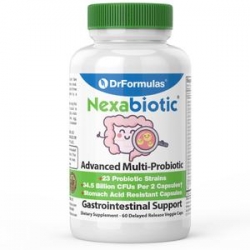 Huntington Beach, CA, August 02, 2018 --(
PR.com
)-- DrFormulas®, a vitamin and supplement formulation company, has recently had one of their probiotic products
ranked by Reviews.com
. DrFormulas Nexabiotic® Advanced was voted as the Best Probiotic Supplements for IBS/IBD Relief.
DrFormulas Nexabiotic® Advanced
is a probiotic designed for women and men to help improve weight loss, bolster the immune system, provide essential nutrients for the skin, and restore digestive balance in the gut. Nexabiotic® Advanced is a doctor formulated probiotic with strains such as Saccharomyces boulardii, Bifidobacterium infantis, Lactobacillus acidophilus, and 20 other strains at a dose of 17.25 billion CFUs per capsule.
"Nexabiotic® Advanced was designed to maximize patients' gut health. We're glad to hear that our unique probiotic blend may be helpful for those with Irritable Bowel Syndrome (IBS)/Inflammatory Bowel Disease (IBD). Whether customers are looking for something to help support normal bowel movements or are simply trying to stay proactive when it comes to digestive health, this product is their best bet. We're delighted to be ranked by Reviews.com, and believe the excellent research, formulation, and quality of our probiotic is what have made it so effective," said Dr. Bryan Tran, D.O. co-founder of DrFormulas.
In compiling their ranking, Reviews.com assessed more than 200 probiotic supplements from various companies. From the list of 200, 70 probiotics were tested by third-party labs to determine their purity, potency, and projected efficacy. Lab workers looked at the various supplements' actual ingredients compared to what was listed on each label, ensuring companies had been honest and that no contaminants were present in each probiotic. From this process, Nexabiotic® Advanced was selected as the best probiotic for IBS/IBD relief. Of all products tested, Nexabiotic® Advanced had the highest score in Reviews.com's "Projected Efficacy" category.
DrFormulas® strives to make supplements that are as effective as possible and works to ensure that the ingredients they use for their products are of the highest quality. The company focuses on consumers' health, and their wide range of vitamins and supplements demonstrates the brand's commitment to well-formulated products.
Purchase Nexabiotic® Advanced online
, or to learn more about DrFormulas, visit https://drformulas.com/.
About DrFormulas
DrFormulas® has been formulating their high quality nutritional supplements since 2010. Products are created with the consumer in mind, meaning that every supplement is formulated to be as effective as possible. Each product carried by the company is carefully researched by doctors and scientists before ever making it to the production line and eventually into your home, because at DrFormulas®, your health comes first. Visit
https://drformulas.com/
to learn more.
Contact
DrFormulas
Megan Bushnell
1-888-406-6499
https://drformulas.com

Contact