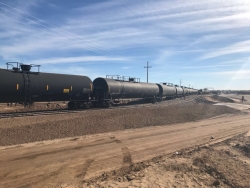 Laredo, TX, August 01, 2018 --(
PR.com
)-- Ikon Midstream has established a new fuel terminal for the Laredo, TX market. The company assures premium quality blended fuels at a lower price point than competitors.
Laredo fuel distributors struggling to find a terminal can finally heave a sigh of relief. Leading fuel blender Ikon Midstream has come up with the first ever fuel terminal in Laredo. The only gasoline supplier in the city, the company owns its own patent on gasoline detergents and is the first independent blender to cross gasoline into Mexico.
"We are excited to launch the first fuel terminal of Laredo. We observed that the city lacks a fuel terminal and the fuel distributors here usually have a hard time in sourcing fuels. The lack of competition also offers an open market for us to scale up our growth in the region. We promise high end blended fuels at competitive prices for the local US distributors here who cater to a large client base in Mexico," stated Rhett Kenagy, the CEO & Managing Partner of Ikon Midstream.
Ikon Midstream specializes in buying and blending high quality gasoline & diesel fuel from raw materials sourced from Houston-based refineries. As a registered supplier into Mexico, the company supplies all NOM 16 approved ULSD, High Sulfur Diesel, Gasoline, bio-diesel and also LPG to the Mexican market through its strategic unloading stations in Mexico. Ikon is registered through SAM with the federal government.
To meet the growing demand for blended fuel, Ikon Midstream is currently in an expansion spree and has expanded its production capacity from 20 fuel trucks a day to 100 a day. In line with its expansion spree, Ikon has recently moved to a new address in Houston (5847 San Felipe, Suite 1700, Houston, Texas 77057) which is now its new corporate location.
"Mexico is now deregulated for the first time and fuel is not controlled by their government anymore. Our Laredo terminal will enable more Mexican distributors to import their own fuel easily from now on."
What separates Ikon Midstream from its competitors is its focus on blending fuels at higher specifications than required by the government. It invariably peaks the quality of the blended fuels and the company also sells its products at a much better price point than its competitors. According to Mr. Kenagy, it's their great collaboration with the raw material suppliers which enables them to provide premium products at affordable rates. Mr. Kenagy is one of the spearheads of the company and under his able leadership, Ikon's market share in the Mexican market has grown a whopping 12% in the first quarter of 2018.
Ikon Midstream's Houston terminal houses seven fuel storage tanks with a collective capacity of 160,000 barrels of product (6,720,000 gallons). In regards to blending services, the company holds 3 automated diesel & bio-diesel loading stations. Two of the 3 bays are backed by automated bottom loading facility and have been modernized recently to extend state of the art services to customers.
For more information, please visit http://www.ikonmidstream.com.