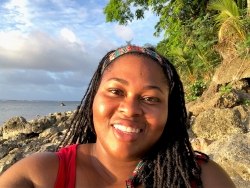 Cincinnati, OH, August 10, 2018 --(
PR.com
)-- Cincinnati based travel nursing agency Vero has named Andrea Stigarll, RN as their Vero Hero Nurse of the Month for August 2018.
"We are excited to launch this new program designed to bring greater recognition to our travel nurses throughout the United States and in the South Pacific. Travel nursing can be challenging, and these professionals work tirelessly to alleviate nursing shortages throughout the nation. Andrea is an excellent example of this. She works very diligently to provide quality care and safety for her patients. We are proud to name her our very first 'Vero Hero,'" says Stephen Leonard, Marketing Manager for Vero.
In a letter to Vero, Andrea explains why she chose Vero as her preferred agency, why she loves Travel Nursing and offers advice for other traveling nurses.
"Good morning & Hello from Guam!" Andrea's letter begins.
Andrea continues, "Why I chose nursing...When I was 13, I got to witness the birth of one on my little sisters. I thought it was the most amazing thing and I knew right then I wanted to be a labor & delivery nurse. I loved helping my mom back then and love helping all the laboring moms I work with now. I feel blessed to assist with bringing new life in this world. I've only been an L&D nurse and don't want to do anything else."
Andrea goes on to write, "I like traveling with Vero because it allowed me to come to Guam! This has been a fantastic experience and I've loved just about most of it! I guess that's why I'm still here. My recruiter, Simon, has been awesome. He's made my time here smooth sailing and the few concerns I have had during my time here were quickly resolved. I also enjoy the incentives Vero offers, especially all the bonuses and the holiday raffle that I won earlier this year!"
Andrea closes with some advice for other travel nurses, "Travel nursing is an amazing lifestyle that allows us to see any part of the world we wish to. My advice to other travel nurses, especially those wanting to come to Guam, is always be flexible and pack a lot patience. Embrace the island life and be easy! Thank you."
Andrea currently works as a Travel Nurse for Vero on the island of Guam.